Tithing Today?
In Malachi 3:10-11, God says,
"Bring all the tithes into the storehouse, that there may be food in My house, and try Me now in this," says the LORD of hosts, "If I will not open for you the windows of heaven and pour out for you such blessing that there will not be room enough to receive it. And I will rebuke the devourer for your sakes, so that he will not destroy the fruit of your ground, nor shall the vine fail to bear fruit for you in the field," says the LORD of hosts.
Those are pretty amazing promises! God says when we bring the first tenth to Him, He will open the windows of heaven and pour out a blessing we cannot contain. He even invites us to test Him in this area! (As far as I know there is no other place in the Bible where God does that.)
Notice, too, that He says He will rebuke the devourer. While this was written to an agrarian society whose prosperity was measured in vineyards, crops, and their livestock, you can transpose this principle right into the era in which we live. God will still bless us, and He will still rebuke the devourer for our sakes.
Years ago, in a small church in Mexico, a friend of mine was teaching on tithing. A poor man in the church got angry and stormed out. Later that day, he read the verses from Malachi again and decided to put God to the test. "Could God fulfill His promise—even in my circumstance?" he thought.
That poor villager later testified—interrupting a service and demanding that tithing needed to be taught again—"because these people need it!" He told how he had been blessed like never before since he started giving one-tenth of his earnings to the church.
God is not limited by the circumstances that surround us. He can bless us no matter where we are if we will "try Him" and bring all the tithe into His storehouse.
Visit the Answers with Bayless Conley website for more ways to Connect with God
and
click here to view today's Answers with Bayless Conley broadcast at LightSource.com.
FEATURED RESOURCE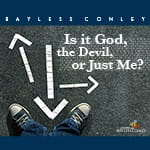 Is it God, the Devil, or Just Me?
To help you know if your thoughts are from God, the devil, or your own mind, we want to send you a copy of Bayless Conley's message, Is it God, the Devil, or Just Me?, as thanks for your gift today. One thing you'll learn is that anything you hear that's from God will lift up His Son, Jesus.
Request Is it God, the Devil, or Just Me? when you give below—and thank you for helping to proclaim a living Jesus to our dying world in 2015. God bless you, and Happy New Year!