Giving When No One Sees
Matthew 6:1-4 gives some important insight into giving,
"Take heed that you do not do your charitable deeds before men, to be seen by them. Otherwise you have no reward from your Father in heaven. Therefore, when you do a charitable deed, do not sound a trumpet before you as the hypocrites do in the synagogues and in the streets, that they may have glory from men. Assuredly, I say to you, they have their reward. But when you do a charitable deed, do not let your left hand know what your right hand is doing, that your charitable deed may be in secret; and your Father who sees in secret will Himself reward you openly."
Jesus points us to a truth that is vital to us as Christians: Giving is an issue of the heart.
God will not honor your giving if, when you give, your heart is saying, "I want everyone to know what I'm doing. I want to be noticed when I give. I want everyone to know just how generous and kind I am and what a benevolent heart I have."
We should give with a pure motive. When we give with the right motive, not to be seen by men but out of a right heart, God will reward us openly. That may not exactly translate into dollars and cents, but it will translate into tangible blessings, things that people can see.
If nobody else knows you kicked in the extra hundred bucks, don't worry about it. God sees, and He has a way of rewarding you openly. Everyone will recognize the hand of God is on you. God's blessings will come into your life.
So when you give, check your heart to make sure you are giving with the right motive.
Visit the Answers with Bayless Conley website for more ways to Connect with God
and
click here to view today's Answers with Bayless Conley broadcast at LightSource.com.
FEATURED RESOURCE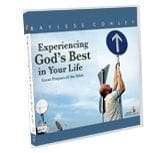 Prayer is communication with God. It is speaking, and it is also listening. And like all communication, prayer is a skill that can and should be improved.
In this six-message series called
Experiencing God's Best in Your Life (Great Prayers of the Bible)
, Bayless Conley teaches you how to grow in your communication with God by examining many of the most powerful prayers in Scripture. You'll learn to touch God's heart and pray prayers that get results! And you'll realize the amazing inheritance God is waiting to bestow on you in response to prayer.
Discover the remarkable difference a better prayer life can make for you!