Answers for Each Day - July 3

The Vital Sign of Spiritual Insight
In the Old Testament, we find the story of Ezra and a large group of Israelites who returned to Jerusalem to reestablish the temple and the worship of God. In the midst of this incredible effort, Ezra prays a powerful prayer, as recorded in Ezra 9:8,
"And now for a little while grace has been shown from the LORD our God, to leave us a remnant to escape, and to give us a peg in His holy place, that our God may enlighten our eyes and give us a measure of revival in our bondage."
Ezra prays that their eyes would be enlightened spiritually. It is reminiscent of Paul's prayer in Ephesians 1, when he prayed that the eyes of the Ephesians would be enlightened, spiritually opened.
One vital sign of the need for revival is when we are spiritually dull and insensitive to God's promptings, and the Holy Spirit's direction and creativity.
Perhaps you can remember something creative that once operated in your life, but sadly, it has waned. It has declined. It has gone dormant.
It shouldn't be that way! The Holy Spirit wants to prompt you and guide you and give you knowledge and creativity. But when you are living in a spiritual fog, and you have become accustomed to living in that fog, you can be assured you have become spiritually dull.
That is when you need to be revived. And when you are, there is an enlightening of the eyes. There is a renewed sense and an awareness of the prompting, and the wooing, and the guiding of God's Spirit. That is what comes with revival.
When you are spiritually revived, you will be sensitive to God's Spirit, and you will gain from Him supernatural insight and enlightenment.
Visit the Answers with Bayless Conley website for more ways to Connect with God
and
click here to view today's Answers with Bayless Conley broadcast at LightSource.com.
FEATURED RESOURCE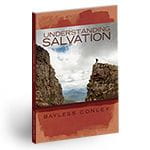 Understanding Salvation
"For God so loved the world that He gave His only begotten Son, that whoever believes in Him should not perish but have everlasting life.." – John 3:16
It's one thing to recognize this commonly quoted verse from the Bible, and something entirely different to realize what it means. Knowing what it means to "perish" and to "have everlasting life" are, without a doubt, the most important discoveries a person will ever make.
That's why we'd like to send you a copy of Pastor Bayless Conley's booklet,
Understanding Salvation
. It's our gift to thank you for your donation to help Answers continue to bring a living Jesus to our dying world.
Recently on Answers for Each Day, with Bayless Conley
Follow us on Facebook
Get Answers for Each Day, with Bayless Conley devotionals directly to your News Feed.
Have something to say about this article? Leave your comment via Facebook below!
advertise with us
Example: "Gen 1:1" "John 3" "Moses" "trust"
Advanced Search
Listen to Your Favorite Pastors