Answers for Each Day - June 16

Enjoying the Fullness of Your Inheritance
In Galatians 4:1-5, the apostle Paul helps us understand what it means to be part of God's family,
Now I say that the heir, as long as he is a child, does not differ at all from a slave, though he is master of all, but is under guardians and stewards until the time appointed by the father. Even so we, when we were children, were in bondage under the elements of the world. But when the fullness of the time had come, God sent forth His Son, born of a woman, born under the law, to redeem those who were under the law, that we might receive the adoption as sons.
Adoption in Roman society was very different from adoption today. When a flesh and blood son reached the age of maturity, he was "adopted" into his own family. Until that time, he was considered a child, and he was under the tutelage of a household slave.
We are heirs because of adoption. What does this mean? It means that God is well pleased when we assume our place as mature sons of God, exercising our authority and enjoying the fullness of our inheritance. But most Christians don't do this.
Not long ago, I learned about a particular website that can tell you if you have any money anywhere that you don't know about. There are literally hundreds of millions of dollars sitting unused in trust funds or accounts that people don't know about.
A lot of Christians operate this way. They have this incredible inheritance that belongs to them, this incredible authority that has been given to them, and they are unaware of it. And, friend, that does not bring pleasure to God.
Visit the Answers with Bayless Conley website for more ways to Connect with God
and
click here to view today's Answers with Bayless Conley broadcast at LightSource.com.
FEATURED RESOURCE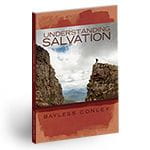 Understanding Salvation
"For God so loved the world that He gave His only begotten Son, that whoever believes in Him should not perish but have everlasting life.." – John 3:16
It's one thing to recognize this commonly quoted verse from the Bible, and something entirely different to realize what it means. Knowing what it means to "perish" and to "have everlasting life" are, without a doubt, the most important discoveries a person will ever make.
That's why we'd like to send you a copy of Pastor Bayless Conley's booklet,
Understanding Salvation
. It's our gift to thank you for your donation to help Answers continue to bring a living Jesus to our dying world.
Recently on Answers for Each Day, with Bayless Conley
Follow us on Facebook
Get Answers for Each Day, with Bayless Conley devotionals directly to your News Feed.
Have something to say about this article? Leave your comment via Facebook below!
advertise with us
Example: "Gen 1:1" "John 3" "Moses" "trust"
Advanced Search