Answers for Each Day - June 4

The Nature of Faith
In our last devotional, we talked about how important faith is to pleasing God. It is not just important, it's essential, because without it, you and I cannot please God.
The natural question is, "What is faith?"
In Hebrews 11:1, the writer gives us the technical definition of biblical faith,
Now faith is the substance of things hoped for, the evidence of things not seen.
Faith deals with unseen reality. In fact, Weymouth's translation says, "Faith is a conviction of the reality of things we do not see."
You might think, "That's a nice definition, but what does that really mean?" That is a good question. And it is answered by the examples given in Hebrews 11 which show different ways people expressed their faith in God, because there is not just one way to demonstrate faith in God:
Abel shows us that faith is giving our best to God. He deserves our first and our best.
Enoch shows us that faith is walking with God. It is living a life in constant connection with God, even when you can't sense or feel Him.
Noah shows us that faith is making preparations as though Christ is coming back today, even when there is seemingly no evidence.
Abraham shows us that faith is obeying God, even though you may not know where He is leading you.
Sarah shows us that faith is receiving God's promise, even when public opinion says, "No way!"
Moses shows us that faith is living life in light of eternity, and allowing that focus to affect all of life's decisions.
Commit today to live this life of faith. If you do, you will truly please God!
Visit the Answers with Bayless Conley website for more ways to Connect with God
and
click here to view today's Answers with Bayless Conley broadcast at LightSource.com.
FEATURED RESOURCE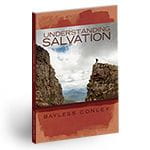 Understanding Salvation
"For God so loved the world that He gave His only begotten Son, that whoever believes in Him should not perish but have everlasting life.." – John 3:16
It's one thing to recognize this commonly quoted verse from the Bible, and something entirely different to realize what it means. Knowing what it means to "perish" and to "have everlasting life" are, without a doubt, the most important discoveries a person will ever make.
That's why we'd like to send you a copy of Pastor Bayless Conley's booklet,
Understanding Salvation
. It's our gift to thank you for your donation to help Answers continue to bring a living Jesus to our dying world.
Recently on Answers for Each Day, with Bayless Conley
Follow us on Facebook
Get Answers for Each Day, with Bayless Conley devotionals directly to your News Feed.
Have something to say about this article? Leave your comment via Facebook below!
advertise with us
Example: "Gen 1:1" "John 3" "Moses" "trust"
Advanced Search
Listen to Your Favorite Pastors