Conexión Vertical - 10 de Abril


Compasión, de verdad!!
"Si tienes poder para hacer el bien, no te rehúses a hacérselo a quien lo necesite" Proverbios 3:27
En una ocasión Jesús contó una historia: - Un hombre judío bajaba de Jerusalén a Jericó y fue atacado por ladrones. Le quitaron la ropa, le pegaron y lo dejaron medio muerto al costado del camino. Un sacerdote pasó por allí de casualidad, pero cuando vio al hombre en el suelo, cruzó al otro lado del camino y siguió de largo. Un ayudante del templo pasó y lo vio allí tirado, pero también siguió de largo por el otro lado. Entonces pasó un samaritano despreciado y cuando vio al hombre, sintió compasión por él. Se le acercó y le alivió las heridas con vino y aceite de oliva, y se las vendó. Luego subió al hombre en su propio burro y lo llevó hasta un alojamiento, donde cuidó de él. Al día siguiente, le dio dos monedas de plata al encargado de la posada y le dijo: "Cuida de este hombre. Si los gastos superan esta cantidad, te pagaré la diferencia la próxima vez que pase por aquí".
- Ahora bien, ¿cuál de los tres te parece que fue el prójimo del hombre atacado por los bandidos? - preguntó Jesús.
El hombre contestó: - El que mostró compasión.
Entonces Jesús le dijo: - Así es, ahora ve y haz lo mismo.
Muchas veces nosotros podemos encontrarnos en similares situaciones, donde tenemos la oportunidad de ayudar a nuestro prójimo, en tales circunstancias, no permitamos que argumentos equivocados se adueñen de nuestra mente y corazón y nos neguemos a tender la mano a aquel que lo necesita.
Recordemos esta bella historia y actuemos con amor y compasión todas las veces que Dios ponga en nuestro camino a personas que necesitan de nosotros, en algunas ocasiones tal vez no necesiten solo cosas materiales, sino una palabra de aliento y un abrazo de consuelo.
Y el Rey dirá: "Les digo la verdad, cuando hicieron alguna de estas cosas al más insignificante de éstos, mis hermanos, ¡me lo hicieron a mí!". Mateo 25:40
Brisna Bustamante S.
Sub Coordinador Call Center
Haz clic aquí para visitar la página de CVC La Voz
Si necesitas oración o consejería, CVC La Voz tiene personas preparados para recibir ayuda. CVC La Voz Radio Cristiana provee contenido dinámico y relevante diariamente para impactar vidas. Tenemos un grupo dedicado de consejeros listo para recibir su petición de oración, comentarios o preguntas.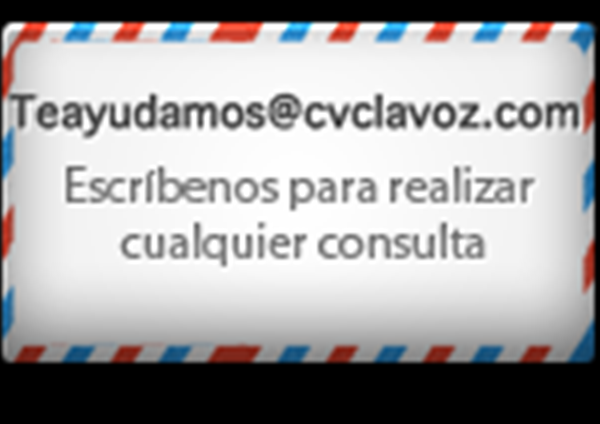 Recently on Conexión Vertical
Follow us on Facebook
Get Conexión Vertical devotionals directly to your News Feed.
Have something to say about this article? Leave your comment via Facebook below!
advertise with us
Example: "Gen 1:1" "John 3" "Moses" "trust"
Advanced Search
Listen to Your Favorite Pastors