Conexión Vertical - 17 de Abril

EL SUSTITUTO
Un barco se hallaba en una fuerte tempestad. Las mujeres y los niños tuvieron que subir a los botes salvavidas. El último de estos ya estaba casi repleto. Un tripulante debía permanecer a bordo, y es que Jorge que estaba en el barco sintió que esta sentencia de muerte era muy fuerte para él.
Juan uno de los merineros, había hablado a Jorge de Jesús pero él siempre se burlaba de todo lo que le decía.
Pero de repente en el momento que podía subir la última persona al bote, Juan fue hacia él y lo obligo a subir diciendo: - Yo estoy en regla con Dios, tú no debes morir todavía, pues estarías perdido. ¡Adiós, nos encontraremos en el cielo! Jorge no quería aceptar ese sacrificio, pero fue arrastrado al bote y Juan se quedo.
Apenas se había alejado el bote el barco se dio vuelta y se hundió.
Al ver esto Juan pensó que su compañero no habría muero en vano. Llegando al puerto tenía en mente más a Juan que a Dios.
Pero cuando sus compañeros quisieron llevarlo consigo a la caverna para festejar, él se negó diciéndoles que Juan su sustituto le había puesto una cita en el cielo, porque lo que no quería ir a donde Juan no iba.
Poco a poco no se preocuparon mas por Jorge, de modo que a menudo estaba solo. Un día compro una Biblia por que recordó que Juan la leía. Después de haberla estudiado descubrió que Jesús había muerto por él para librarlo de sus pecados. Le llamo la atención un versículo de la Primera Epístola de Juan: "La Sangre de Jesucristo su hijo nos limpia de todo pecado"
El pidió a Dios que lo perdonara y Dios lo perdono y ahora puede vivir gozoso porque está consciente de que Dios no murió en vano, ni tampoco Juan.
Piensa que Jesús hizo eso y mucho mas por ti y por mí, fue nuestro sustituto, murió, sufrió todo por nosotros y también resucito para que hoy puedas estar aquí. Hagamos que ese sacrificio valga la pena y es que también nosotros tenemos una cita con Jesucristo nuestro Sustituto.
"Porque el amor de Cristo nos constriñe, pensando esto: que si uno murió por todos, luego todos murieron; y por todos murió, para que los que viven, ya no vivan para sí, sino para aquel que murió y resucito por ellos" 2 Corintios 5:14-15.
Tags: Tempestad, sustituto, sacrificio, cita.
Telma Céspedes.
Haz clic aquí para visitar la página de CVC La Voz
Si necesitas oración o consejería, CVC La Voz tiene personas preparados para recibir ayuda. CVC La Voz Radio Cristiana provee contenido dinámico y relevante diariamente para impactar vidas. Tenemos un grupo dedicado de consejeros listo para recibir su petición de oración, comentarios o preguntas.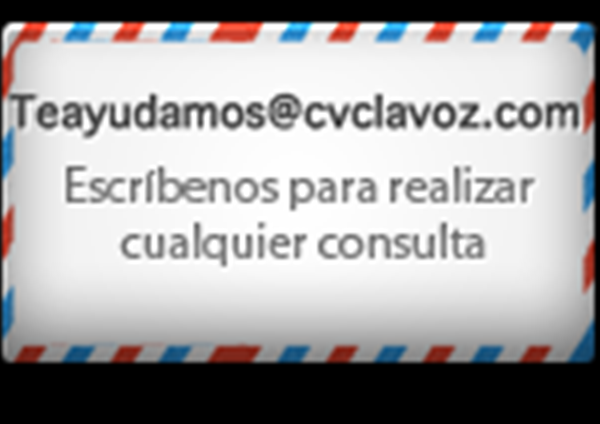 Recently on Conexión Vertical
Follow us on Facebook
Get Conexión Vertical devotionals directly to your News Feed.
Have something to say about this article? Leave your comment via Facebook below!
advertise with us
Example: "Gen 1:1" "John 3" "Moses" "trust"
Advanced Search
Listen to Your Favorite Pastors