Conexión Vertical - 25 de Marzo


Quieres Verlo?
"Hasta ahora sólo había oído de ti, pero ahora te he visto con mis propios ojos." Job 42:5 NTV
En el transcurso de nuestra vida llegamos a conocer a muchas personas cara a cara, por comentarios de otros, o bien por información de otros medios (radio, televisión. Internet) Hay personas que han impactado nuestras vidas y otros que pasan desapercibidos.
Generalmente las personas que conocemos íntimamente son aquellos que vienen en nuestro auxilio, cuando estamos en necesidad. Contrariamente hay otros, que al saber de nuestro problema, nos condenan y se apartan para seguir su camino y muy poco conocemos de los que solo hemos escuchado comentarios o afirmaciones.
A Job, hombre perfecto y temeroso de Dios, como lo describe las escrituras, tuvo una conversación con sus amigos (Elifaz, Bildad y Zofar) mientras pasaba por la gran prueba, que mas que ayudarle, lo torturaban con sus supuestas "palabras de consuelo". Pero qué importante la afirmación que Job hizo a Jehová, su Dios "te he visto con mis propios ojos" y si está registrado en la Biblia, quiere decir que también nosotros podemos verlo; Job tuvo que pasar por circunstancias adversas, perder todo su patrimonio, familia, salud ¿te imaginas? Si Dios lo permitió es porque quería mostrarse a Job, su hijo.
Dios quiere mostrarse a todos, a ti y a mi; al principio, en medio o al final de nuestras circunstancias, cualquiera que fuere y sin restar importancia al dolor que pasamos, sabe que lo mas importante es VERLO.
Al verlo, lo estamos conociendo más, no por lo que nos cuentan de él o hemos escuchado simplemente, sino por la intimidad personal como con Job. Busquemos su rostro cada día, busquemos verlo en la intimidad y no nos conformemos con solo escuchar de él.
"Señor, hasta hoy solo he escuchado cosas maravillosas de ti, y no te he visto, reconozco que he buscado tu favor, tu mano en muchas situaciones pero hoy quiero verte y conocerte personalmente."
Soraida Fuentes
Departamento RDS
El siguiente crédito, por obligación, es requerido para su uso por otras fuentes: Este artículo fue producido por Radio Cristiana CVCLAVOZ.
Haz clic aquí para visitar la página de CVC La Voz
Si necesitas oración o consejería, CVC La Voz tiene personas preparados para recibir ayuda. CVC La Voz Radio Cristiana provee contenido dinámico y relevante diariamente para impactar vidas. Tenemos un grupo dedicado de consejeros listo para recibir su petición de oración, comentarios o preguntas.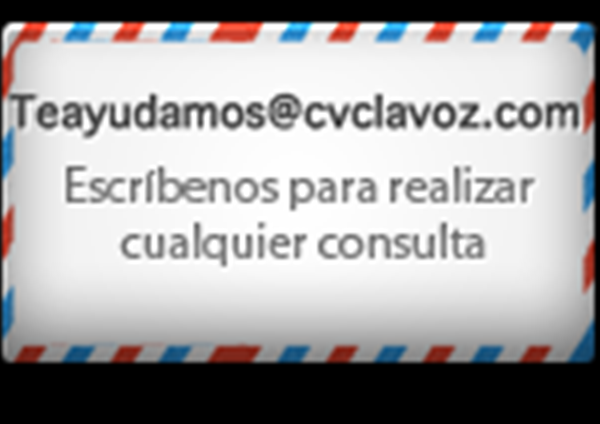 Recently on Conexión Vertical
Follow us on Facebook
Get Conexión Vertical devotionals directly to your News Feed.
Have something to say about this article? Leave your comment via Facebook below!
advertise with us
Example: "Gen 1:1" "John 3" "Moses" "trust"
Advanced Search
Listen to Your Favorite Pastors