Conexión Vertical - 27 de Marzo

Una Carga Difícil de Llevar
"Algunos que habían llegado de Judea a Antioquía se pusieron a enseñar a los hermanos: A menos que ustedes se circunciden, conforme a la tradición de Moisés, no pueden ser salvos." Hechos 15:1
El libro de hechos nos cuenta como el evangelio empezó a estenderse aun a aquellos que no eran judios. Habia una gran alegria al ver que Dios también se habia revelado a otras naciones. Sin embargo, algunos judios deseaban obligar a los gentiles a cumplir con la ley de Moises y a circuncidarse, de otra forma -segun ellos- no podian ser salvos. Pero los discipulos guiados por el Espíritu Santo, les piden a sus hermanos judios no imponerles a sus hermanos, cargas tan difíciles de llevar que ni aun ellos mismos habian logrado cumplirlas.
Hoy en dia, muchos de nosotros solemos cometer el mismo error. Cuando le estamos hablando a alguien de Jesús, antes de contarles del amor de Dios, les hablamos de las cosas que tienen que dejar de hacer, les decimos que deben abandonar los vicios, costumbres, palabras, y prácticas que "ofenden" a Dios, pero la verdad es que lo primordial debe ser hablarles de la obra redentora de Jesus en la Cruz, antes de poner en ellos una carga, que inclusive a muchos de nosotros aún nos cuesta llevar.
Debemos entender que es el Espíritu Santo es quien transforma los corazones y mengua el amor que tenemos por las cosas del mundo. En muchas de nuestras Iglesias aun se para en la puertas a aquellos jóvenes que llegan con gorras en sus cabezas, se mira mal a las mujeres que no se vistieron con pudor y se juzga a aquellos que desean buscar de Dios pero aún no logran dejar el cigarillo o el alcohol. Necesitamos dirección divina, para entender que esos "detalles" sólo los cambia Dios, no hay prédica, sermón o predicador que pueda convencer a alguien, sólo el espiritu santo de Dios lo hace y en cada caso es de forma diferente.
Oremos para que asi como los discípulos podamos entender que la salvación sólo depende de reconocer nuestro estado pecaminoso, entender la necesidad de un Salvador y aceptar el sacrificio de Cristo como expiación por nuestra falta, todas las otras cosas vendrán con el tiempo en nuestro caminar con Dios.
Juan 17:3 "Y esta es la vida eterna: que te conozcan a ti, el único Dios verdadero, y a Jesucristo, a quien has enviado".
Dilean Canas
Que opinas de esto? este devocional fue de bendición para tu vida?
Escríbenos a teayudamos@cvclavoz.com
Haz clic aquí para visitar la página de CVC La Voz
Si necesitas oración o consejería, CVC La Voz tiene personas preparados para recibir ayuda. CVC La Voz Radio Cristiana provee contenido dinámico y relevante diariamente para impactar vidas. Tenemos un grupo dedicado de consejeros listo para recibir su petición de oración, comentarios o preguntas.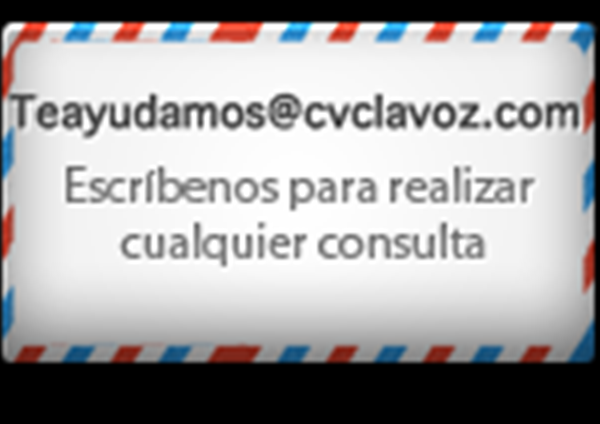 Recently on Conexión Vertical
Follow us on Facebook
Get Conexión Vertical devotionals directly to your News Feed.
Have something to say about this article? Leave your comment via Facebook below!
advertise with us
Example: "Gen 1:1" "John 3" "Moses" "trust"
Advanced Search
Listen to Your Favorite Pastors