Conexión Vertical - 11 de Agosto


Sigamos la instrucción
En Cades, en el desierto de Zin donde habían acampado los Israelitas cuando iban hacia la tierra prometida, Moisés y Aron enfrentaban nuevamente el reclamo del pueblo:
¡Si tan sólo hubiéramos muerto con nuestros hermanos delante del Señor! ¿Por qué trajiste a la congregación del pueblo del Señor a este desierto para morir, junto con todos nuestros animales? ¿Por qué nos obligaste a salir de Egipto y nos trajiste a este terrible lugar? ¡Esta tierra no tiene grano ni higos ni uvas ni granadas ni agua para beber!.
Entonces Moisés y Aarón fueron a la entrada del tabernáculo, donde cayeron rostro en tierra y el Señor le dijo a Moisés: «Tú y Aarón tomen la vara y reúnan a toda la comunidad. En presencia de todo el pueblo, háblale a la roca y de ella brotará agua. De la roca proveerás suficiente agua para satisfacer a toda la comunidad y a sus animales.
Así que Moisés hizo lo que se le dijo. Tomó la vara y luego él y Aarón mandaron a llamar al pueblo a reunirse frente a la roca. «¡Escuchen, ustedes rebeldes! —gritó—. ¿Acaso debemos sacarles agua de esta roca?». Enseguida Moisés levantó su mano y golpeó la roca dos veces con la vara y el agua brotó a chorros. Así que toda la comunidad y sus animales bebieron hasta saciarse. Sin embargo, el Señor les dijo a Moisés y a Aarón: «¡Puesto que no confiaron lo suficiente en m&iacut para demostrar mi santidad a los israelitas, ustedes no los llevarán a la tierra que les doy!» (Números 20:1-12).
Es necesario tener la suficiente confianza en Dios para dar un paso más, es necesario que oigamos atentamente su instrucción y actuemos de acuerdo a Él; aunque ya tengamos mucha práctica en seguir instrucciones, puede que ahora sea diferente la manera en la que debemos actuar, como pasó con Moisés que había utilizado su vara muchas veces para hacer milagros; sin embargo, Dios en esta ocasión le pidió que hablase a la roca. Así, aunque podemos no comprender, podemos no estar convencidos, sigamos su voz, confiemos y recordemos que nuestra confianza es la seguridad o esperanza firme en Dios.
"¡Oh, cuánto deseo que mis acciones sean un vivo reflejo de tus decretos!Entonces no tendré vergüenza cuando compare mi vida con tus mandatos." Salmos 119:5 NTV
Soraida Fuentes
Haz clic aquí para visitar la página de CVC La Voz
Si necesitas oración o consejería, CVC La Voz tiene personas preparados para recibir ayuda. CVC La Voz Radio Cristiana provee contenido dinámico y relevante diariamente para impactar vidas. Tenemos un grupo dedicado de consejeros listo para recibir su petición de oración, comentarios o preguntas.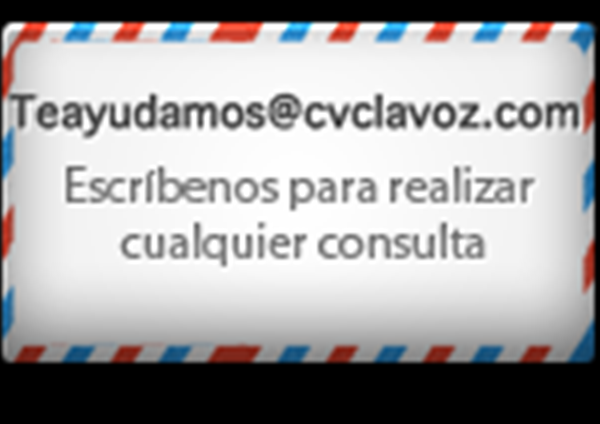 Recently on Conexión Vertical
Follow us on Facebook
Get Conexión Vertical devotionals directly to your News Feed.
Have something to say about this article? Leave your comment via Facebook below!
advertise with us
Example: "Gen 1:1" "John 3" "Moses" "trust"
Advanced Search
Listen to Your Favorite Pastors