You May be in a Hurry, but God is Not - Daily Hope with Rick Warren - October 6, 2016

You May Be in a Hurry, but God Is Not
By Rick Warren
"God ... does everything just right and on time, but people can never completely understand what he is doing" (Ecclesiastes 3:11 NCV).
If you want to slow down your life, you've got to learn to trust God's timing.
Do you know what impatience is? It's a lack of trust. When you're impatient, you're saying, "God, I don't really trust you. I don't think you have my best interest at heart. You don't know when I need it and I'm in a hurry." You get worried and you get hurried and you start scurrying because you don't trust God to do it at the right time and in the right way. You struggle and strive.
Is fast always better? Not always.
The Bible says in Ecclesiastes 3:11, "God ... does everything just right and on time, but people can never completely understand what he is doing" (NCV).
God has a plan for your life. You probably know that. But he also has a timetable for your life. Here's the rub: God never explains his timetable. Doesn't that just tick you off sometimes?
One of the most painful things in life is when you're in a hurry and God's not. When children grow up, part of maturing is having to learn the difference between "no" and "not yet." A delay is not a denial. As a follower of Jesus Christ, you have to learn the same thing with God: A delay is not a denial. God knows the right time and the right way. He has a plan and a timetable. And his timing is perfect.
When Saddleback Church grew for 15 years without a building, this is the verse that God used to encourage me for all those years: "This vision is for a future time. It describes the end, and it will be fulfilled. If it seems slow in coming, wait patiently, for it will surely take place. It will not be delayed" (Habakkuk 2:3 NLT, second edition).
That vision that God has given you that hasn't happened yet, it's coming. It's coming on God's timetable. In the meantime, trust God and slow down.
Playtoday's audio teaching from Pastor Rick >>
Talk It Over
What is the vision God has given you that you have been waiting on him to fulfill?
What do you think God wants you to do while you wait on him and his timing?
For more Daily Hope with Rick Warren, please visit pastorrick.com!
---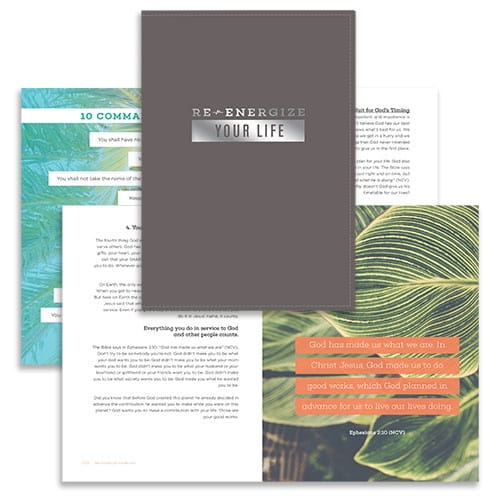 Re-Energize Your Life - A Life Change Book
It doesn't matter how much you work out or how healthy you may eat, if you're not feeding and exercising your spirit… you're going to feel run down and tired – you'll run out of gas. You've got to do more than just take care of your body. You've got to energize your spirit! And the best way to do that is with God's Word! That's why we've put together this new interactive guide called Re-Energize Your Life!
In this first-of-its-kind guide, created from Pastor Rick's most practical teaching, you will learn everything you need to know to re-energize your life the way God intended.  Step by step, you will begin a journey of restoration and renewal. It's a hands-on guide you take at your own pace. No need to rush! In fact, we encourage you to stop and linger where you want to spend more time. You'll benefit from biblical wisdom and learn how to apply it to your life in practical ways.

This high quality "vegan-leather" bound, four-color interactive guide is a user-friendly, practical powerhouse! It's eye-pleasing pages are packed with full-color devotionals, verses, and bible teachings that will dramatically impact your spiritual life forever.
We'll send you the "Re-Energize Your Life - A Life Change Book"  when you give a gift to support Daily Hope. 
This is a limited time offer; request your copy today. Your generous support enables us to share the hope of Christ with people all around the world.

This devotional © 2016 by Rick Warren. All rights reserved. Used by permission.
You can also listen to Rick Warren on OnePlace.com.