July 1
Grace? What's That?
Every trade and every craft has its own jargon. That special "inside talk" sometimes uses ordinary English words but gives them totally different meanings. For instance, you may have a sister, i.e., a female sibling. In carpenter talk, though, a "sister" is a short piece of wood that is used to reinforce a joint between two ceiling or floor joists.
In day-to-day conversation, the word grace means that someone moves fluidly and beautifully. We admire a dancer's graceful steps or a figure skater's graceful twirls. It can be a woman's name. It can mean a prayer of thanks before you eat: to "say grace."
But when you read it in the New Testament, and you will see it a lot, it means something else entirely. It means nothing less than that God chooses to love the unlovable, just because. "God demonstrates his own love for us in this: while we were still sinners, Christ died for us" (Romans 5:8). Grace means that God went first to rescue us. Grace means that the purchase of our freedom was 100 percent God's doing. Grace means that the pressure is off you to perform, that you can always find a resting place in your Savior.
Gracemeans that God's love for you is unlimited and unconditional. You can exhale now.
---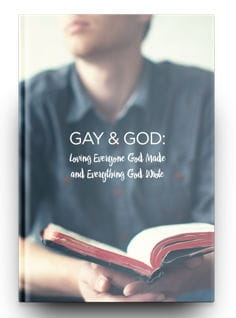 Gay & God: Loving Everyone God Made and Everything God Wrote
Jesus wanted his people to be known for their love. But sadly, love is often the last thing homosexuals find in the church.
This brand-new resource from Time of Grace called Gay & Godshows youthe deep meaning and true significance of Jesus' words, "Love your neighbor as yourself."It also teaches you what the Bible actually says on the topic of homosexuality—and empowers you to show practically the love of Christ in a culture where being gay is the new normal.
For more from Time of Grace visit them at TimeofGrace.org or visit their OnePlace.com and LightSource.com pages!