A Bush Aglow
"Moses was amazed because the bush was engulfed in flames, but it didn't burn up. Moses said to himself. "Why isn't that bush burning up?" - (Exodus 3: 2, 3 NLT)
These verses are taken from a familiar passage that describes the call of Moses. I love this story because it is the greatest illustration in the Bible of what I call 4 Spiritual Secrets:
I'm not but He is.
I can't but He can.
I don't want to but He wants to.
I didn't but He did.
Applying the Secrets to Moses, he was not the deliverer of God's people from their awful slavery and suffering in Egypt. God was their Deliverer. Moses could not deliver them but God could. Based on his objections we know Moses did not want to deliver those people. God wanted to deliver them. When the Red Sea parted and the people of God marched through on dry ground nobody had to tell Moses: "You didn't do that." He knew, "God did that!"
The primary detail in this story is often overlooked. God got the attention of Moses when a bush burst into flame and was not consumed! In the extreme heat of the desert this often happens, but a burning bush is always consumed in about five seconds. The miraculous reality that the bush was not burning up moved Moses to turn aside and see how to be a vehicle of deliverance.
Epidemic addiction issues exist today that have millions looking for deliverance. There is also epidemic burnout among those who serve the Lord. As servants of God we need to turn aside with Moses and see how to be a "Bush Aglow" on fire for the Lord, without burning up or burning out, as conduits of God's deliverance.

---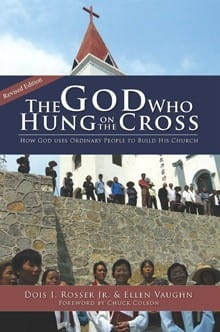 Free Book: The God Who Hung on the Cross
This newly revised paperback edition features reflections on 25 years in ministry by Dois Rosser. The book details the history and vision of ICM, the parent organization for the Mini Bible College, and the vehicle for distributing MBC to congregations around the world. Dois' story is an inspiration, encouraging Christians to give of their time and resources to experience the abundant power of God at work. Journey around the world with Dois and discover that you too can be a part of something bigger than yourself!