What Does It Mean to Conserve?
"Search me, O God, and know my heart;
Try me, and know my anxieties;
And see if there is any wicked way in me,
And lead me in the way everlasting."
(Psalm 139: 23, 24)
Applying the compass of a jet pilot to our personal compass of life we next need to ask what it means to conserve when we think we may have lost our way. The familiar prayer of David in Psalm 139 is one answer to that question. We can assume that David is facing challenging decisions about the way he needs to go. We might also assume that he is aware of what this translation lists as his 'anxieties.'
He is asking God to take the lid off his mind, heart, thoughts and motives along with his anxieties and show him what should not be there because he wants to walk with God in the everlasting way. By example and precept David is teaching that we should be conservative when our anxiety is letting us know that we have lost our way.
We should not make big decisions when we are down or on an emotional high. We should move ahead steadily when what God shows us under the lid of our heart and mind is in alignment with His will and the way He wants us to go with Him.
My  friend, the squadron commander, told me about a rookie pilot who radioed his carrier: "I'm lost somewhere over the South West Pacific Ocean but I'm making excellent time!" When we know we are lost that's not when we are to be making excellent time. That is the time for us to be conservative and pray this prayer of David.

---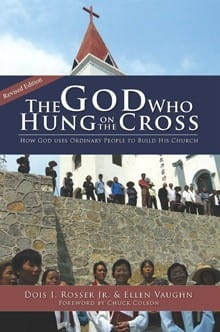 Free Book: The God Who Hung on the Cross
This newly revised paperback edition features reflections on 25 years in ministry by Dois Rosser. The book details the history and vision of ICM, the parent organization for the Mini Bible College, and the vehicle for distributing MBC to congregations around the world. Dois' story is an inspiration, encouraging Christians to give of their time and resources to experience the abundant power of God at work. Journey around the world with Dois and discover that you too can be a part of something bigger than yourself!