The Go-To Prayer
"But when he saw the wind, he was afraid and, beginning to sink, cried out, 'Lord, save me!'" - (Matthew 14:30)
The Apostle Peter is the only man besides Jesus Christ who ever walked on water. Yet millions only remember that he took his eyes off the Lord and would have drowned if the Lord had not saved him.
We read that Peter's magnificent faith was flawed. He saw the wind. Since we cannot see wind this actually means when he saw what the wind was doing, he lost sight of what Jesus was doing and he became afraid. The remarkable thing here is that when he kept his eyes on Jesus, he walked on water!
It was not until he was beginning to sink that Peter cried out this prayer. Two thousand years later, this remains a go-to prayer for us all through the many storms of life. Jesus taught that our prayers should not be long and we should never think we will generate grace with God by our many words. If Peter had prayed a longer prayer, the words beyond the third would have been glub, glub glub! When Jesus caught Peter by the hand He gave him the nickname, "Little Faith." (I believe our Lord was smiling when He did.) He literally asked Peter: "Why did you think twice?"
While very ill the past two weeks many people have been recruited to pray for me. Yesterday it occurred to me that I had not prayed for myself. I then fervently pleaded this prayer that the Lord always answers: Lord, save me!
In your spiritual walk, don't think twice and don't be a "Little Faith." Instead, learn to plead this prayer…and soon you will find your way through the stormy waves of life walking on water.

---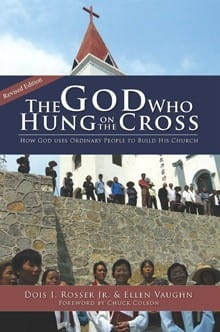 Free Book: The God Who Hung on the Cross
This newly revised paperback edition features reflections on 25 years in ministry by Dois Rosser. The book details the history and vision of ICM, the parent organization for the Mini Bible College, and the vehicle for distributing MBC to congregations around the world. Dois' story is an inspiration, encouraging Christians to give of their time and resources to experience the abundant power of God at work. Journey around the world with Dois and discover that you too can be a part of something bigger than yourself!