Three Levels of Commitment to Christ
"And all things are of God, who has reconciled us to himself by Jesus Christ, and has given to us the ministry of reconciliation." - (2 Corinthians 5:18 KJV)
In the fifth chapter of Second Corinthians we find one of the most profound passages of Scripture in the New Testament. In this chapter we have a window into the heart of the Apostle Paul as he writes about what motivates him. It is a passage that clearly defines the Gospel. Paul gives us here the vision absolutes that defend why he lived like a madman. He then clearly writes that every believer who has been reconciled to God by Christ has been commissioned with the message and the ministry of being a peacemaker and a minister of reconciliation. The passage concludes with a very clear description of the meaning of the death of Jesus Christ on the cross.
This profound passage also describes three levels of commitment to Jesus Christ that are identified by prepositions. In the verse quoted above the first 'entry' level of commitment to Christ is described as Paul uses the preposition "by Jesus Christ." We are saved "by Christ." When He saves us He often fills our life with good things the way He filled Peter's boat with fish (Luke 5: 1-11). It doesn't take us long to realize that the changes taking place in our lives are by Jesus Christ. We also discover there are many things we can only do by Jesus Christ.
Study this passage (verse 13 through 21), and see if you can identify two more levels of commitment to Christ. What are they and what would they look like if you applied them to your walk with Christ?

---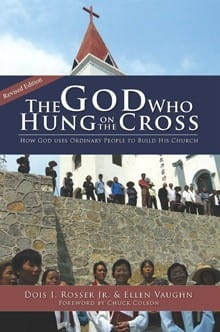 Free Book: The God Who Hung on the Cross
This newly revised paperback edition features reflections on 25 years in ministry by Dois Rosser. The book details the history and vision of ICM, the parent organization for the Mini Bible College, and the vehicle for distributing MBC to congregations around the world. Dois' story is an inspiration, encouraging Christians to give of their time and resources to experience the abundant power of God at work. Journey around the world with Dois and discover that you too can be a part of something bigger than yourself!