The Second Level of Commitment to Christ
"Therefore, if anyone is in Christ, he is a new creation; old things have passed away; behold, all things have become new." - (2 Corinthians 5:17)
The Apostle Paul's favorite description of committed disciples is found in the two words "in Christ." Paul uses this expression just under 100 times in his inspired letters. "By Christ" means that by faith we are saved and have access to many blessings. "In Christ" means we are not taking Him into our plans but He is taking us into His plans. It means we can have a relationship with Christ, be united to Him, and draw strength from Him.
Paul also wrote that we have "all spiritual blessings in heavenly places, in Christ." (Ephesians 1:3) The heavenly places refer to the spiritual dimension of this life.
While living in Palo Alto, California, I had a friend with a Ph. D in paleontology from Stanford University. He told me that, as a devout believer, when he finished his master's degree and started work on his doctor's degree he surrendered to those teaching him by agreeing that there is no God.
He did not want to live if there is no God. He therefore decided to commit suicide. Just before he drank cyanide he bowed his head to pray. He then laughed at himself. He was taking his life because there is no God and the last thing he wanted to do was talk to Him. He then remembered a verse: "God is a Spirit, and those who worship Him must worship in spirit and truth."
He realized we do not find God in a fossil or a test tube. We find God in the spiritual dimension of this life, "in Christ."
Are you seeking God in the right places?

---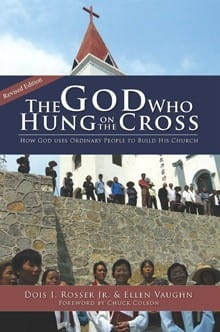 Free Book: The God Who Hung on the Cross
This newly revised paperback edition features reflections on 25 years in ministry by Dois Rosser. The book details the history and vision of ICM, the parent organization for the Mini Bible College, and the vehicle for distributing MBC to congregations around the world. Dois' story is an inspiration, encouraging Christians to give of their time and resources to experience the abundant power of God at work. Journey around the world with Dois and discover that you too can be a part of something bigger than yourself!