A Challenge to Love
 "God is love. Whoever lives in love lives in God, and God lives in him." (1 John 4:16 NIV)
In this Scripture the apostle John, who is called the Apostle of Love, is giving us ten reasons why we must love one another. Among those ten reasons is the one expressed above. We must love one another because God is love and the person who loves in this way is living in God and God is living in that person.
One application of what he is writing is that when we plug into this love that God is we live in God and God lives in us. In 1955 I made this great discovery. As a social worker, while responding to a night call at 3:00AM, I prayed a prayer something like this: "God, You say You are a special quality of love. I believe You are probably doing Your love thing where people are hurting. I'm now going to where hurting people are. When I get there pass this love You are through me and address their pain."
There were times when I prayed that prayer I thought I was being electrocuted with the love of God. I challenge you to accept the challenge of the Apostle John. Go where the hurting people are with that prayer on your heart. When you become a conduit of the love of God, you will discover that the experience is like an addiction. You will never be satisfied with anything less than having that experience again and again.
This is because as a conduit of the love of God you will have experienced Who, What and Where God is – and where you want to be for the rest of your life!

---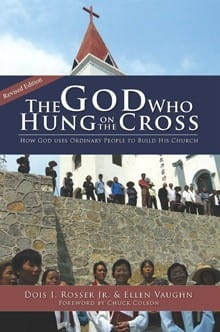 Free Book: The God Who Hung on the Cross
This newly revised paperback edition features reflections on 25 years in ministry by Dois Rosser. The book details the history and vision of ICM, the parent organization for the Mini Bible College, and the vehicle for distributing MBC to congregations around the world. Dois' story is an inspiration, encouraging Christians to give of their time and resources to experience the abundant power of God at work. Journey around the world with Dois and discover that you too can be a part of something bigger than yourself!