A Fourth Reason We Must Love
 "…because as He is, so are we in this world…" (1 John 4:17)
As the Apostle of love continues to give us reasons why we must love, having told us twice that God is love (verses 8 and 16), he writes the words quoted above that as He is, so are we in this world.He also told us in verse 16 that God lives in us. If God is love and God lives in us, then it follows that as God is (love), so are we (to be love) in this world. This is yet another reason why we must love.
The perfect example of this was Jesus Christ when He was God in human flesh for 33 years. The greatest dynamic of His personality was love. If you had met with Him for a day like Zacchaeus, the Chief of the Publicans (Luke 19), or for an hour like the Samaritan woman (John 4), or briefly like the young man we call the rich young ruler, you would have known that you had been loved as you had never been loved before. We're told that Jesus, looking intently at the rich young ruler, loved him (Mark 10:21).
The Apostle John, the author of the fourth Gospel, lived with Jesus 24/7 for three years. He refers to himself in his Gospel many times with these words: "I am the disciple whom Jesus loved." Sixty years after he was loved by Jesus, he dedicated the last book of the Bible to Jesus with the words "… unto the faithful Witness Who loved us…"
When people meet with us today do they feel that they have been loved as never beforebecause we are God (love) with skin on in this world?

---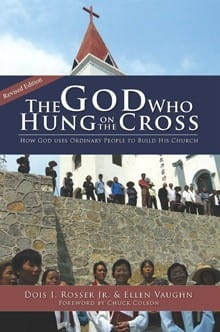 Free Book: The God Who Hung on the Cross
This newly revised paperback edition features reflections on 25 years in ministry by Dois Rosser. The book details the history and vision of ICM, the parent organization for the Mini Bible College, and the vehicle for distributing MBC to congregations around the world. Dois' story is an inspiration, encouraging Christians to give of their time and resources to experience the abundant power of God at work. Journey around the world with Dois and discover that you too can be a part of something bigger than yourself!