We Have a Great Example to Follow
 "Beloved, if God so loved us, we also ought to love one another." (1 John 4:11)
The Apostle John points to Jesus dying on the cross and writes: "This is love… that He loved us and sent His Son as an atoning sacrifice for our sins (1 John 4:10). He follows that with the words quoted above – that if God SO loved uswe ought also to love one another.
Hours before He was arrested and crucified, Jesus challenged the men He had been apprenticing 24/7 for three years to love one another as He had loved them. He then prophesied that by this the whole world would know they were His disciples. Peter wrote that by His death on the cross He had given us an example and a calling that we should follow in His steps (1 Peter 2:21).
The Apostle John is in alignment with Jesus and Peter when he gives us yet another reason we are to love one another. In principle Jesus was instructing the apostles that the best way to reach out is to reach in. Essentially, Jesus was saying that we have a message of love to communicate to the world. The best way to do that is to love one another and show the world a community of love.
If our churches were the colonies of love Jesus desires them to be, the love-starved people of this world would be beating our doors down to be part of our spiritual communities because everyone has a need to be loved and to belong. The love John is profiling is the greatest evangelistic tool our Lord has given to His Church. Are you willing to reach in that you might reach out for His glory?

---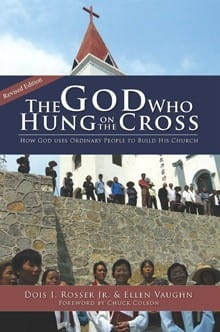 Free Book: The God Who Hung on the Cross
This newly revised paperback edition features reflections on 25 years in ministry by Dois Rosser. The book details the history and vision of ICM, the parent organization for the Mini Bible College, and the vehicle for distributing MBC to congregations around the world. Dois' story is an inspiration, encouraging Christians to give of their time and resources to experience the abundant power of God at work. Journey around the world with Dois and discover that you too can be a part of something bigger than yourself!