Caution: God at Work
"Every valley shall be filled and every mountain and hill brought low; the crooked places shall be made straight and the rough ways smooth…" - (Luke 3:5)
One of the greatest sermons was preached by the Prophet Isaiah and quoted by the man Jesus called 'the greatest prophet ever born of woman,' John the Baptist. The sermon used a metaphor that was well known in Isaiah's time. When a king was going to travel to a distant province in his kingdom, they would build a highway on which he would travel. While the highway was under construction they referred to it as "The Kings Highway."
When you build a highway you do four things: you fill valleys, you level mountains, you straighten crooked places, and you smooth out rough places.
As Isaiah predicted the coming of the Messiah he proclaimed that God was coming into this world and the highway on which He was going to travel was the perfect life of His Son. In that perfect life His valleys would be filled with the Holy Spirit. The mountains of pride would be completely leveled, the crooked ways of sin would be completely straighten, and He would respond to the rough ways of His cross perfectly.
One of the most dynamic truths in the New Testament is that Jesus sent His followers into this world in the same way He was sent into this world. That means that our life in Christ is designed to be a highway on which God travels into this world. I dare you to ask God to make your life such a highway. If you do, don't be surprised when God's "bulldozers" show up. Then you can write, "Caution: God at Work" over your life

---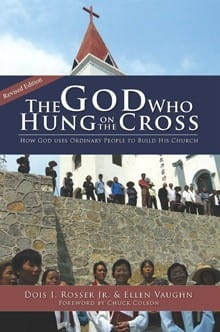 Free Book: The God Who Hung on the Cross
This newly revised paperback edition features reflections on 25 years in ministry by Dois Rosser. The book details the history and vision of ICM, the parent organization for the Mini Bible College, and the vehicle for distributing MBC to congregations around the world. Dois' story is an inspiration, encouraging Christians to give of their time and resources to experience the abundant power of God at work. Journey around the world with Dois and discover that you too can be a part of something bigger than yourself!