Value Community
"But woe to him who is alone when he falls." - (Ecclesiastes 4:10)
Have you observed how much Jesus valued community? He taught: "For where two or three gather in my name, there am I with them." (Matthew 18:20 NIV) He also gave a great teaching regarding prayer community:"When two of you get together on anything at all on earth and make a prayer of it, my Father in heaven goes into action." (Matthew 18:19, The Message)
When He made that observation about being present when two or three gather in His name he was not giving us a consolation for a poor attendance at a meeting. He was being descriptive and prescriptive about the reality that His risen presence is among us in a special way when just two or three of us come together in His name.
The man who was thought to be the wisest man on earth in his day also wrote about the value of community. Before he wrote the words quoted above he told us that two are better than one for when one falls the other will help him up and "a threefold cord is not quickly broken." This could mean that when two or three are in community the presence of God among them forms that threefold cord that cannot be quickly broken.
Are you in community? If you are not then follow the teaching of our Lord and the wise counsel of Solomon and seek the spiritual community you need. I'm not telling you to go to church. I am writing about that special relationship with two or three people where you have accountability and deep sharing of life and faith. If you cannot find one, start one. It only takes you and one other person.

---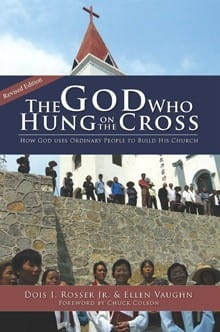 Free Book: The God Who Hung on the Cross
This newly revised paperback edition features reflections on 25 years in ministry by Dois Rosser. The book details the history and vision of ICM, the parent organization for the Mini Bible College, and the vehicle for distributing MBC to congregations around the world. Dois' story is an inspiration, encouraging Christians to give of their time and resources to experience the abundant power of God at work. Journey around the world with Dois and discover that you too can be a part of something bigger than yourself!