Philosophy of Neighbor
"'So which of these three do you think was neighbor to him who fell among the thieves?'" - (Luke 10:36)
I heard a businessman say, "There are two things to be gained in every business deal: money and experience. When you do business always get the money and give that other person the experience!"
According to the way the parable of Jesus ended with the verse above, when a devout disciple of Jesus is involved in a business deal, should they always get the money and give the other person the experience?
Jesus taught this parable in response to the question: "Who is my neighbor?" In His answer Jesus presented three philosophies of neighbor. "What's mine is mine and what's yours will be mine just as soon as I can take it." That was the philosophy of the thieves in this story. "What's mine is mine and what's yours is yours" was the philosophy of the religious people Jesus profiled here. Jesus' philosophy of neighbor, however, was showcased by the Samaritan in this way: "What's yours is yours and what's mine is yours any time you need it."
How should that philosophy of neighbor impact the way we do a business deal as committed followers of Jesus Christ? The way we answer that question should make us think about our entire philosophy of life and not just our philosophy about how we do business.
What is your vision statement and what are your mission objectives in life? Is your vision statement to get rich and are your mission objectives all the ways you can think making money?
What is your philosophy of neighbor? Is your own personal vision statement in alignment with the philosophy of neighbor Jesus taught us?

---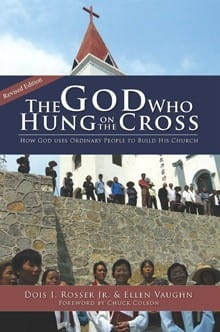 Free Book: The God Who Hung on the Cross
This newly revised paperback edition features reflections on 25 years in ministry by Dois Rosser. The book details the history and vision of ICM, the parent organization for the Mini Bible College, and the vehicle for distributing MBC to congregations around the world. Dois' story is an inspiration, encouraging Christians to give of their time and resources to experience the abundant power of God at work. Journey around the world with Dois and discover that you too can be a part of something bigger than yourself!