Faithful Stewards
 "Moreover it is required in stewards that one be found faithful…And what do you have that you did not receive? (>1 Corinthians 4: 2, 7)
The biblical word "steward" is not fully understood or appreciated. It is actually one of the most important words in the New Testament. A synonym for this word is "manager." Many people believe this word primarily relates to a person's money. But that application falls far short of the essential meaning of this word.
When Paul asks the probing question: "And what do you have that you did not receive?"he is telling us that our stewardship applies to everything we have received from God. This means our time, energy, gifts and talents, our health and all the things that make up the essence of our very life, including all of our money and possessions.
At the age of 65 my best friend had what he refers to as a "halftime" experience when he came to fully appreciate this word "steward." His regular custom was to draw a line down the middle of the top page of a legal pad. On the left side of that line he wrote "My business" while on the right side of the line he wrote "God's business." When he fully appreciated this word "steward" he erased that line because, as a very successful wealthy businessman, he realized it was all God's business.
Remember, the important thing about a steward is that we be found faithful. Do you realize there is nothing in your life you did not receive from God? Do you know that you are to faithfully manage everything you have received from God? Are you willing to have a halftime experience and erase the line between what is yours and what is God's?

---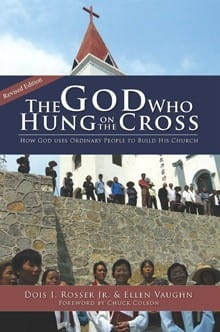 Free Book: The God Who Hung on the Cross
This newly revised paperback edition features reflections on 25 years in ministry by Dois Rosser. The book details the history and vision of ICM, the parent organization for the Mini Bible College, and the vehicle for distributing MBC to congregations around the world. Dois' story is an inspiration, encouraging Christians to give of their time and resources to experience the abundant power of God at work. Journey around the world with Dois and discover that you too can be a part of something bigger than yourself!