What's Good about Good Friday?
"All we like sheep have gone astray;We have turned, every one, to his own way; And the LORD has laid on Him the iniquity of us all." - (Isaiah 53:6)
If you want to know what is good about Good Friday the verse quoted above will tell you. This verse describes with great clarity the meaning of the death of Jesus Christ on the cross when it begins and ends with the same word. That word is "all." The verse begins with what we might call "the bad news." Isaiah tells us that all of us are like little sheep and have gone astray. We have turned every single one of us, to our own way. If you want to know the meaning of the death of Jesus Christ on the cross, agree that you yourself are included in that first all.
The all with which this verse concludes is what we might call "the good news." Isaiah ends this verse by telling us that the penalty for all the things we have done after turning to our own way has been laid on Him (meaning Jesus). I don't know about you, but for me that is very, very good news! If you and I will confess that we are included in the first and the last all in this great Gospel verse then we know what we need to know and we have done all we need to do to turn our bad news into good news. And we know what is good about Good Friday.
If you want to make the Friday of Holy Week a Good Friday, believe what Isaiah has written. That will make all of your days good days.

---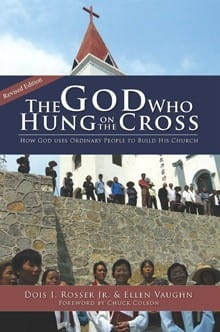 Free Book: The God Who Hung on the Cross
This newly revised paperback edition features reflections on 25 years in ministry by Dois Rosser. The book details the history and vision of ICM, the parent organization for the Mini Bible College, and the vehicle for distributing MBC to congregations around the world. Dois' story is an inspiration, encouraging Christians to give of their time and resources to experience the abundant power of God at work. Journey around the world with Dois and discover that you too can be a part of something bigger than yourself!