The Workmanship of God
"For we are His workmanship, created in Christ Jesus for good works, which God prepared beforehand that we should walk in them." - (Ephesians 2:10)
The founding elder of the first church for which I was the pastor was a home builder. He did beautiful work and when a couple wanted him to build their home he would take them to a beautiful home he had built and say to them "By the grace of God this is by workmanship." The verse above is saying to all of us who are followers of Christ that our risen living Christ would like to point to each of us and say "This is My workmanship!"
We are all a work of Christ in progress. In addition to that thought this verse is stating that when we came to faith and were saved by grace through the faith our Lord gave us, He created us for good works. In fact we're told that before He saved us he had already planned that we would do those works for Him.
I don't know about you but that truth excites and inspires me greatly! We're so selfish and self-centered that when we come to faith our focus is often on what trusting Christ to be our Savior is going to mean to us. Many followers of Christ have the attitude "What have you done for me lately?" The Apostle Paul had the right vision when he met the risen Christ on the road to Damascus and asked the question, "Lord, what do you want me to do for you?"
As a follower of Christ have you been asking and seeking to know what those works are your Lord and Savior had planned for you when He saved you by grace?

---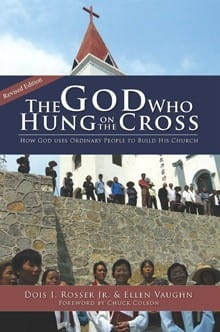 Free Book: The God Who Hung on the Cross
This newly revised paperback edition features reflections on 25 years in ministry by Dois Rosser. The book details the history and vision of ICM, the parent organization for the Mini Bible College, and the vehicle for distributing MBC to congregations around the world. Dois' story is an inspiration, encouraging Christians to give of their time and resources to experience the abundant power of God at work. Journey around the world with Dois and discover that you too can be a part of something bigger than yourself!