Little Clay Pots
"Even though our outward man is perishing, yet the inward man is being renewed day by day." - (2 Corinthians 4: 16)
Many years ago when John Quincy Adams began crossing a street, he was in such poor health it took him five minutes to approach the other side. A friend who was passing that way asked, "How is John Quincy Adams this morning?" He replied, "John Quincy Adams is doing just fine. The house he lives in is in sad disrepair. In fact, it is so dilapidated, John Quincy Adams may have to move out soon, but John Quincy Adams is doing just fine, thank you!"
John Quincy Adams was no doubt acquainted with the verse of Scripture I have quoted. Paul writes that we have an outward man and an inward man. In two of my favorite translations the outward man, or our body, is referred to as a common earthenware jar and a little clay pot (JB Phillips and the Living Bible Paraphrased.)
Paul declares a fourth eternal value: Our inward man is a greater value than our outward man. These verses Paul wrote to console those who were persecuted at that time are also a consolation for persecuted believers today or those who may be in the final stages of cancer that is causing their physical bodies to perish. When they have prayed for healing and it appears that God is taking them home, their inward man can be renewed while their outward man is wasting away.
As some believers study the resurrection chapter they want to believe they will hold on to their physical body. The great news is God is going to replace our little clay pots with spiritual bodies.

---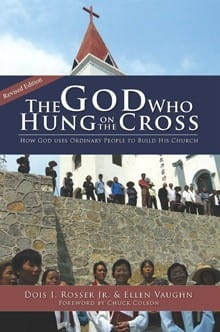 Free Book: The God Who Hung on the Cross
This newly revised paperback edition features reflections on 25 years in ministry by Dois Rosser. The book details the history and vision of ICM, the parent organization for the Mini Bible College, and the vehicle for distributing MBC to congregations around the world. Dois' story is an inspiration, encouraging Christians to give of their time and resources to experience the abundant power of God at work. Journey around the world with Dois and discover that you too can be a part of something bigger than yourself!