A Spiritual Body
"It is sown a natural body, it is raised a spiritual body." - (1 Corinthians 15:44)
Have you ever seen a dragonfly with its double wings moving like a helicopter from one flower to another? This amazing creature actually begins its life under water. For about two years it exists as a shellfish with a long narrow body like a knitting needle.
If you did a cross section on that shellfish you would find that it has two respiratory capacities. With one it can absorb oxygen from passing water through its body like other shellfish; however, it has another respiratory system that will one day breathe air.
When the two years of its underwater life have ended it rises to the surface of the water, moves to where land begins, dries its magnificent wings in the sun and then begins the second dimension of its existence.
The Apostle Paul writes that we are also designed to live our life in two dimensions and God has provided a body for us to live in each place. He has given us a body so we can live on earth and a body so we can live in heaven. Paul labels our earthly body "a natural body" and our heavenly body "a spiritual body." He then identifies a third spiritual value: A spiritual body is a greater value than a natural body.
Since I have spent several decades trapped in a quadriplegic body I really resonate with Paul when he declares that a spiritual body is prepared for me. How I look forward to that spiritual body that will not have the limitations of my present body. With great joy I anticipate the spiritual body God has prepared and Christ has made possible for me.
Do you value your spiritual body?

---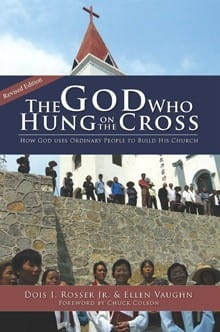 Free Book: The God Who Hung on the Cross
This newly revised paperback edition features reflections on 25 years in ministry by Dois Rosser. The book details the history and vision of ICM, the parent organization for the Mini Bible College, and the vehicle for distributing MBC to congregations around the world. Dois' story is an inspiration, encouraging Christians to give of their time and resources to experience the abundant power of God at work. Journey around the world with Dois and discover that you too can be a part of something bigger than yourself!