Outside In or Inside Out
"There is nothing that enters a man from outside which can defile him; but the things which come out of him, those are the things that defile a man." - (Mark 7:15)
When I was in college the popular thinking in academic circles was that until a child was born it was all about heredity and after a child was born all that mattered was environment. The political philosophy of people like Lynden Baines Johnson and his Great Society was that if we improve the environment of a person we will solve their problems.
As a social worker that didn't work for me. For example, I once found a marvelous foster home for a 12 year old boy from the ghetto of a large city. An older couple had a very large farm and they wanted to share it with an adopted son. All the way to the farm I explained to him what an opportunity this was for him. By the time I arrived back to my office I had a message from the perspective foster mother telling me to pick up "this little thief." He had stolen from the purses of ladies who had come to play bridge with her.
Changing the young man's environment did not change him from the inside out or in his heart. In the passage from which the verse above is taken Jesus went on to explain that the issues of life that determine the character of a human being are not a matter of outside in influences. Rather they are the inside out influences of the heart.
That is why the prayers of discerning hearts are: "Search me Oh God and know my heart." And "Create in me a clean heart, O God." (Psalm 139: 23; Psalm 51: 10)

---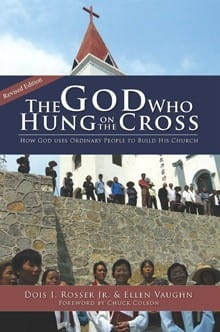 Free Book: The God Who Hung on the Cross
This newly revised paperback edition features reflections on 25 years in ministry by Dois Rosser. The book details the history and vision of ICM, the parent organization for the Mini Bible College, and the vehicle for distributing MBC to congregations around the world. Dois' story is an inspiration, encouraging Christians to give of their time and resources to experience the abundant power of God at work. Journey around the world with Dois and discover that you too can be a part of something bigger than yourself!