Metamorphosis
"…flesh and blood cannot inherit the kingdom of God." - (1 Corinthians 15:50)
Another arresting statement made by Paul in his great resurrection chapter is that flesh and blood cannot inherit the kingdom of God, because corruption cannot inherit incorruption. What Paul means by this statement is that we cannot go to heaven with a physical body. When God decides that He wants us in heaven, He must perform a metamorphosis on us that prepares us to spend eternity with Him in heaven. God works that miracle metamorphosis through our death and resurrection.
As Paul describes the resurrection of believers at the time of the second coming of Jesus Christ he also tells us that those who are living when Jesus returns will be changed. They must be changed because they cannot enter into heaven with their physical bodies. They, too, must experience a miracle metamorphosis to prepare them for heaven.
Here Paul is declaring a sixth eternal value: our heavenly bodies will be so much greater than our physical bodies we must experience a metamorphosis to live forever in heaven. This is just one more way the Scripture consistently tells us that heaven is greater than earth and the best things in life for believers await them in the eternal dimension of life.
The Shepherd Psalm of David tells us that God makes us lie down to discover the green pastures and still waters of life. But, then we get up again and the green pastures turn brown and the still waters become disturbed. Many see a metaphor of the believer's death as the Great Shepherd coming into our life making us lie down in death that He might give us the green pastures that never turn brown and the still waters that never become disturbed in heaven.

---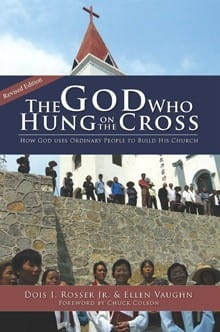 Free Book: The God Who Hung on the Cross
This newly revised paperback edition features reflections on 25 years in ministry by Dois Rosser. The book details the history and vision of ICM, the parent organization for the Mini Bible College, and the vehicle for distributing MBC to congregations around the world. Dois' story is an inspiration, encouraging Christians to give of their time and resources to experience the abundant power of God at work. Journey around the world with Dois and discover that you too can be a part of something bigger than yourself!