Mobile Temples
"Or do you not know that your body is the temple of the Holy Spirit who is in you? …Therefore, glorify God in your body and in your spirit, which are God's." - (1 Corinthians 6:19)
When the apostle Paul wrote these words he was addressing people who had become believers while they were involved in the worst kinds of sexual immorality. Their past continued to impact their lives because they were still involved in sexual sin as believers. He wrote to them that their bodies were not made for sex; they were made to be Temples of God. Everywhere they went, every day, they were Temples of God and they were to be aware of that glorious reality. It's like Paul was telling them, and us, we are mobile Temples of God on wheels, taking God with us everywhere we go.
If you read all of 1 Corinthians 6, you will see how Paul applies this metaphor. For example, he writes that it is unthinkable that they would take the Temple of God and join it to a prostitute or an extramarital sex partner. Make your own applications. What effect should it have on the people in your life as you move among them every day bringing the divine presence of Almighty God with you?
For starters, all the things you're not and you cannot do are possible because of the Divine Treasure living in you. Then the nine fruit of the Spirit (love, joy, peace when you look in, patience, kindness, goodness when you look around, and faithfulness, meekness and self-control when you look up), are all available to you. (Galatians 5:22-23)
How can you glorify God today as one of His mobile Temples?

---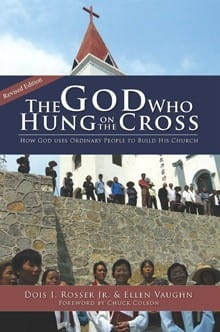 Free Book: The God Who Hung on the Cross
This newly revised paperback edition features reflections on 25 years in ministry by Dois Rosser. The book details the history and vision of ICM, the parent organization for the Mini Bible College, and the vehicle for distributing MBC to congregations around the world. Dois' story is an inspiration, encouraging Christians to give of their time and resources to experience the abundant power of God at work. Journey around the world with Dois and discover that you too can be a part of something bigger than yourself!