Prayer Partnering with God
"Our Father Who art in Heaven, hallowed be Your name. Your Kingdom come, Your will be done on earth as it is in Heaven..." - Matthew 6:9-13
The message of the Bible frequently sifts down to just two words: God first. From Genesis to Revelation, the bottom line interpretation and application of the commandments, character studies, allegories, parables, psalms, sermons, Gospels, Epistles and teachings of Jesus is simply "God first." The prayer Jesus taught us begins with that God-first emphasis when He instructs us to begin by asking God that His name, the essence of Who and what He is, might be honored and reverenced…
Prayer is not a matter of us persuading God to do our will. The very essence of prayer is an alignment between our wills and the will of God. Prayer is not a matter of us making God our partner and taking God intoour plans. Prayer is a matter of God making us His partners and taking us into His plans…
We are not to come into our prayer closets, or corporate worship, with a 'shopping list' and send God on errands for us. When we pray, we should come into the presence of God with a blank sheet of paper and ask God to send us on errands for Him. We should be like soldiers reporting for duty to their Commander in Chief.
Dick Woodward, A Prescription for Prayer

---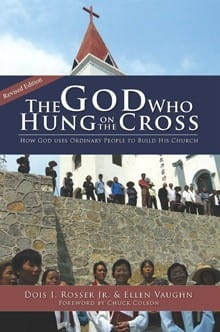 Free Book: The God Who Hung on the Cross
This newly revised paperback edition features reflections on 25 years in ministry by Dois Rosser. The book details the history and vision of ICM, the parent organization for the Mini Bible College, and the vehicle for distributing MBC to congregations around the world. Dois' story is an inspiration, encouraging Christians to give of their time and resources to experience the abundant power of God at work. Journey around the world with Dois and discover that you too can be a part of something bigger than yourself!