Love First
"Though I speak with the tongues of men and of angels, but have not love… I am nothing." - (I Corinthians 13:1-3)
In the middle of the first century, the Apostle Paul composed an inspired poem of love in which he declared that the agape love of God should be the number one priority of spiritual people. He wrote that love is greater than knowledge and more important than faith. His inspired words about love have been, and should be read in every generation of church history. That includes you and me.
His teaching about spiritual gifts in the previous chapter concludes with: "Earnestly desire the best gifts. And yet I will show you a more excellent way." (I Cor 12:31) Paul begins the next chapter with his prescription for that most excellent way: "Let love be your greatest aim," or "Put love first." (LB, NEB)
A SUMMARY PARAPHRASE APPLICATION:
If we speak with great eloquence or in tongues without love, we're just a lot of noise. If we have all knowledge to understand all the Greek mysteries, the gift to speak as a prophet and enough faith to move mountains, unless we love as we do all those things, we are nothing. If we give all our money to feed the poor and our body to be burned at the stake as a martyr, if we give and die without love, it profits us nothing.
Nothing we are, nothing we ever become, nothing we have and nothing we ever will have in the way of natural and spiritual gifts should ever move ahead of love as our first priority. Nothing we do, or ever will do as an expression of our faith, our gifts, our knowledge, or our generous, charitable, unconditionally-surrendered heart is worthy of comparison, or can replace love as we live out our personal priorities in this world."
Dick Woodward, from A Prescription for Love

---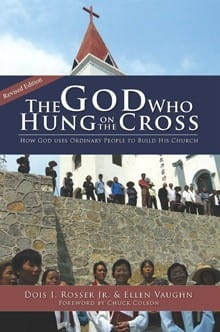 Free Book: The God Who Hung on the Cross
This newly revised paperback edition features reflections on 25 years in ministry by Dois Rosser. The book details the history and vision of ICM, the parent organization for the Mini Bible College, and the vehicle for distributing MBC to congregations around the world. Dois' story is an inspiration, encouraging Christians to give of their time and resources to experience the abundant power of God at work. Journey around the world with Dois and discover that you too can be a part of something bigger than yourself!