God's Mercy vs. our Failures
"…& mercy shall follow me all the days of my life..." - (Psalm 23:6)
Mercy is the unconditional love of God. This word is found 366 times in the Bible. (Perhaps God wants us to know we need His mercy & unconditional love every day of the year – & He covers Leap Year!) Many people think we don't hear about God's mercy until the Sermon on the Mount; however, we find 280 mercy references in the Old Testament.
King David concludes Psalm 100 with the observation that God's mercy is everlasting. But my favorite Old Testament reference to God's mercy is found at the end of Psalm 23. David's greatest Psalm ends with the declaration that he is positively certain the mercy of God will follow him always.
The Hebrew word he uses for 'follow' can also be translated as 'pursue.' David brings the most profound description of the relationship between God & man to a conclusion by declaring the unconditional love of God will pursue him all the days of his life. By application this is true for all who confess, "the Lord is my Shepherd."
There are many ways to fail. However, when we understand the meaning of God's mercy we should realize that we cannot possibly out-fail His mercy. No matter what your failures have been God has sent you a message wrapped in this five letter word "mercy." The amazing message is that you did not win His love by a positive performance and you do not lose His love by a negative performance. God's love and acceptance of you is unconditional. According to David, the mercy of God is not only there like a rock for you, but like a hound of Heaven God is pursuing you with His unconditional love and forgiveness.
Dick Woodward, Happiness that Doesn't Make Good Sense

---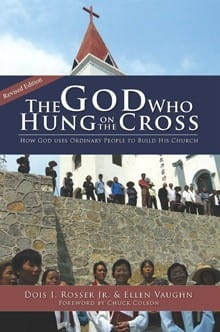 Free Book: The God Who Hung on the Cross
This newly revised paperback edition features reflections on 25 years in ministry by Dois Rosser. The book details the history and vision of ICM, the parent organization for the Mini Bible College, and the vehicle for distributing MBC to congregations around the world. Dois' story is an inspiration, encouraging Christians to give of their time and resources to experience the abundant power of God at work. Journey around the world with Dois and discover that you too can be a part of something bigger than yourself!