All Things
 "For of Him and through Him and to Him are all things, to Him be glory forever. Amen." - (Romans 11:36)
Throughout his inspired writings the Apostle Paul uses the two words "all things" frequently but never lightly. In his letter to the Romans his theological argument begins in the first chapter and ends with the verse quoted above. When he uses these two words here he probably means all the things of which he has written in this theological masterpiece of all his writings.
To paraphrase and summarize this verse, he is stating that God is the Source of all things, the Power behind all things, and His Glory is the purpose for all things. He then begins the application part of his letter by telling us it only makes sense for us to surrender our will to the will of the One Who is the Source of everything, the Power behind everything, and whose glory is the purpose for everything.
To take these propositions one at a time, consider the reality that God is the Source of all things. Is God the Source of the financial downturns we are experiencing today? The great prophet Isaiah wrote: "I am the LORD, and there is no other; I form the light and create darkness, I make peace and create calamity; I, the LORD, do all these things.' (Isaiah 45: 6-7)
It seems that calamities are like a black velvet backdrop against which God exhibits the diamonds of His Gospel. If there were no evil how would our God exhibit His goodness, unconditional love and salvation? In the Hebrew history recorded in the Old Testament God frequently got the attention of His people by turning off the growing processes and creating a famine. Could He be doing that in your life today?

---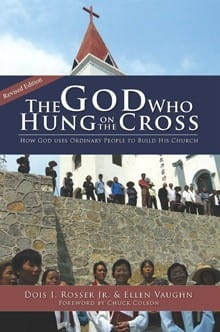 Free Book: The God Who Hung on the Cross
This newly revised paperback edition features reflections on 25 years in ministry by Dois Rosser. The book details the history and vision of ICM, the parent organization for the Mini Bible College, and the vehicle for distributing MBC to congregations around the world. Dois' story is an inspiration, encouraging Christians to give of their time and resources to experience the abundant power of God at work. Journey around the world with Dois and discover that you too can be a part of something bigger than yourself!