Encouragement for Today - Oct. 30, 2006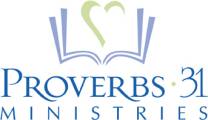 October 30, 2006
Encouragement for Today
Principle 1
"Sorcery, Mediums and Witchcraft"
Sharon Glasgow Proverbs 31 Speaker Team Member

Key Verse:
Deuteronomy 18:10-12 "Let no one be found among you who. . . who practices divination or sorcery, interprets omens, engages in witchcraft, or casts spells, or who is a medium or spiritist or who consults the dead. Anyone who does these things is detestable to the LORD. . ." (NIV)
Devotion:
Standing at my door was a girl I had known since 1st grade. At 8 years-old she had a fascination with magic, mediums and consulting the dead in séances. As a child I had never heard what God thought about these things, it just wasn't talked about in my church. I didn't know for sure that it was wrong but I felt it wasn't right and never participated in her lifestyle.
By the time we were teenagers she had gone much further in her quest for magic and power. I prayed for her all the time and told her my desire was that she would someday come to Christ. She smiled at me and said, "You're so naïve Sharon, you just don't see who I am, do you?"
She looked like death, her body near skin and bones, her hair matted to her face and dark circles around her eyes. What started out to her as innocent magic or "white witch" power, devastated her life. In all my years of knowing her I had never seen her cry, but today she was crying. "Sharon, can I stay with you for the night? It's horrible." Immediately I said, "Yes!" Surely this is the night the Lord will use to bring her to Him I thought.
Ignorantly I invited her into my home. It was probably the darkest night I've ever experienced as I battled in prayer against the forces of darkness that gripped her, and were now taunting me.
Before that night, I never realized the intensity of spiritual warfare - of demons and angels and how they operate in the spiritual realm. God led me to pray in the name of Jesus Christ of Nazareth, and evil was forced to obey me when I did. What Satan meant to harm or scare me that night, God used for good to strengthen my faith in Him.  
Satan and his angels (demons) will try to make you think they are all-powerful, but at the name of Jesus Christ they are rendered powerless. Our kids need to know this truth. Read Luke 10:17-20 to them and talk about how they should handle situations like the one I found myself in.  Tell them they can rebuke evil in the name of Jesus Christ.
That one night radically shaped my parenting. I want to make sure that I teach our children that God has strong opinions about dabbling with the enemy's games – things like ouija boards, tarot cards, or fortune telling.   God instructs us to have no part of them. I also watch out for books, movies and TV shows about sorcery or mediums. Many people think these things are harmless entertainment but they are not according to God.
This Halloween, check out the activities your children plan to participle in. Pray over your home and children in the name of Jesus Christ. Ask Him to protect your loved ones from evil and to shine His light of love and truth through them – He'll do it!   We can rejoice because all authority in heaven and earth has been given to Christ our Lord.
My Prayer for Today:
Lord, Give me spiritual wisdom so that I may discern the unseen forces of evil. Strengthen me by your Word. In Jesus' Name Amen.

Application Steps:
Does anything you watch, read or spend time with deal with divination, sorcery, interpreting omens, witchcraft, casting spells, mediums, spirits or consulting the dead? If so, choose to remove it from your home and life today.
Read Ephesians 1:18-21.  Take encouragement from these verses and pray them for your loved ones.
Reflection Points:
Does my view of things like fortune telling or mediums line up with what the Bible says about them?
Have I talked with my kids about such things? Do they know what God says about occult practices like these?
How can I shine the light of Christ to trick-or-treaters that may come to my door?
Power Verses:
Galatians 5:19-21 Now the works of the flesh are evident, which are: adultery, fornication, uncleanness, lewdness, idolatry, sorcery, hatred, contentions jealousies, outburst of wrath, selfish ambitions, dissentions, heresies, envy, murders, drunkenness, revelries, and the like; of which I tell you beforehand, just as I also told you in the time past, that those who practice such things will not inherit the kingdom of God. " (NKJ)
Ephesians "For we do not wrestle against flesh and blood, but against principalities, against powers, against the rulers of the darkness of this age, against spiritual hosts of wickedness in the heavenly places. Therefore take up the whole armor of God, that you may be able to withstand in the evil day, and having done all, to stand." (NKJ)
Ephesians 1:18-21, "the eyes of your understanding[a] being enlightened; that you may know what is the hope of His calling, what are the riches of the glory of His inheritance in the saints, 19 and what is the exceeding greatness of His power toward us who believe, according to the working of His mighty power 20 which He worked in Christ when He raised Him from the dead and seated Him at His right hand in the heavenly places, 21 far above all principality and power and might and dominion, and every name that is named, not only in this age but also in that which is to come." (NKJ)
Additional Resources:
Taming the TV: Guarding Kid's Hearts, ETC CORNER
Spiritual Warfare and Praying for Your Kids, ETC CORNER
What Will Your Family Do on Halloween? ETC CORNER
Recently on Today's Devotionals
Follow us on Facebook
Get Today's Devotionals devotionals directly to your News Feed.
Have something to say about this article? Leave your comment via Facebook below!
advertise with us
Example: "Gen 1:1" "John 3" "Moses" "trust"
Advanced Search
Listen to Your Favorite Pastors