Reading Through Isaiah: From Exile to Exodus
Johnny Cisneros, Bible Study Magazine
Wednesday, July 17, 2013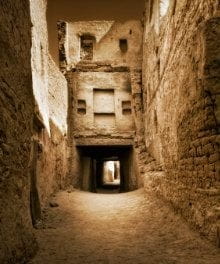 You may be thinking that I got the title backwards: Didn't the exodus from Egypt come before the exile? It did, but not in Isaiah.
The Context of Isaiah 40:1–11
The book of Isaiah can be divided into two parts: 1–39 and 40–66. In 1–35, the Holy One of Israel is appalled by the idolatry and social injustice of His people, and sends them into exile. As a result, they lose their land and nationhood (compare Gen 12:1–2). Though the message in Isa 1–35 is one of judgment, it is followed by one of promise—there is a remnant (Isa 37:31). Then, after a brief narrative about the conflict between Israel and Assyria (Isa 36–39), comes a message of consolation and confrontation. Isaiah 40:1–11 marks a major division in the book and functions as a prologue for the next section, Isa 40–66.
The Content of Isaiah 40:1–11
Isaiah 40:1–11 moves from exile to a new exodus.
Isaiah 40:1–11 (HCSB)
"Comfort, comfort My people," says your God. Speak tenderly to Jerusalem, and announce to her that her time of servitude is over, her iniquity has been pardoned, and she has received from the Lord's hand double for all her sins.
A voice of one crying out: Prepare the way of the Lord in the wilderness; make a straight highway for our God in the desert. Every valley will be lifted up, and every mountain and hill will be leveled; the uneven ground will become smooth, and the rough places a plain. And the glory of the Lord will appear, and all humanity will see it together, for the mouth of the Lord has spoken.
A voice was saying, "Cry out!" Another said, "What should I cry out?" "All humanity is grass, and all its goodness is like the flower of the field. The grass withers, the flowers fade when the breath of the Lord blows on them; indeed, the people are grass. The grass withers, the flowers fade, but the word of our God remains forever."
Zion, herald of good news, go up on a high mountain. Jerusalem, herald of good news, raise your voice loudly. Raise it, do not be afraid! Say to the cities of Judah, "Here is your God!" See, the Lord God comes with strength, and His power establishes His rule. His reward is with Him, and His gifts accompany Him. He protects His flock like a shepherd; He gathers the lambs in His arms and carries them in the fold of His garment. He gently leads those that are nursing.
Isaiah 40 begins with God's people in exile, but that season of punishment has come to an end. The double portion of comfort (Isa 40:1) matches the double portion of punishment which Jerusalem, personified as a woman, has paid in exile (Isa 40:2).
For the people of Israel, the exodus from Egypt defined salvation. It meant deliverance from enslavement (Deut 5:6), a new identity (Deut 26:18), possession of an inheritance (Num 33:53), and restoration of relationship with God and neighbor (Deut 6:4; Lev 19:18). All this was on account of God's mercy, not human merit (Deut 9:4).
Have something to say about this article? Leave your comment via Facebook below!
advertise with us
Example: "Gen 1:1" "John 3" "Moses" "trust"
Advanced Search
Listen to Your Favorite Pastors