Commit to Clicking Away from Internet Porn
Whitney Hopler, Crosswalk.com Contributing Writer
Sunday, April 03, 2011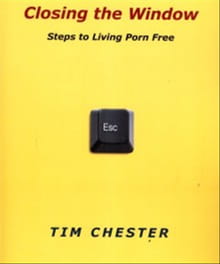 Editor's Note: The following is a report on the practical applications of Tim Chester's recent book, Closing the Window: Steps to Living Porn Free, (InterVarsity Press, 2010).
Pornography is all over the Internet. Even when people aren't looking for porn, they can still encounter it unexpectedly because it's so prevalent online. Many people in our culture give into porn's temptations and experience pain as a result, and Christians aren't immune to the problem. In fact, statistics show that about one in three Christians – men and women alike – reports being addicted to pornography.
If you're one of them, you may feel as if you simply can't give up your porn habit. But you can, with God's help, because God's grace is always greater than your sin. Here's how you can click away from Internet porn, for good:
Consider some reasons for giving up porn. You may get temporary pleasure from porn, but the pleasurable feelings will always fade. Then you can see the reality of how porn harms your life. Porn wrecks your view of sex because it presents sex in ways that don't reflect how real people make love. Porn wrecks your view of people, causing you to see them as objects to consume rather than as sisters and brothers in Christ to love and serve. Porn is a sin against your spouse if you're married. Porn enslaves you to an addiction, causing you to lust after more and more, but never giving you lasting fulfillment. Porn wastes your time, energy, and money. Porn use supports an industry that abuses people. Porn weakens your character and your relationship with God, drawing you deeper and deeper into sin.
Notice what triggers your porn use. Pay attention to what's going on in your life when you turn to porn. Are you dealing with stress, fatigue, boredom, loneliness, rejection, or some other issue? What does porn seem to provide for you: an escape, a reward, or a way to feel powerful or loved?
Replace porn's hollow promises with God's real promises. Face the reality that porn is a symptom of unbelief and idolatry, because by using porn you're desiring sex more than you want a right relationship with God. Compare what porn offers to what God offers you. Porn makes you feel accepted and appreciated, since the people in it appear to do whatever you want to fulfill your fantasies. But God offers real love that gives you true acceptance and appreciation – unconditionally and for free. Porn seems to provide a safe alternative to intimacy, with people showing you what's normally private. But God will bless you with real, loving relationships when you take the risks necessary to develop them. Porn may give you a temporary sense of refuge. But God alone can give you the lasting peace you need. Porn promises to reward you but disappoints when pleasurable feelings go away. God, however, is the source of all joy. Porn may make you think you're getting revenge on someone for not giving you the sex you want. But God wants to free you from being enslaved to a desire for sex and help you find something greater: the joy of knowing Him. Choose to embrace God's true promises instead of porn's false promises.
Confess and repent. Confess the sin of your porn use to God, and repent from it by turning away from a focus on yourself and toward a focus on worshiping God. Realize that by doing so, you're not denying yourself pleasure – you're fighting the temporary pleasure of porn with the lasting and greater pleasure of a right relationship with God that will bring you joy.
Recently on Spiritual Life
Have something to say about this article? Leave your comment via Facebook below!
advertise with us
Example: "Gen 1:1" "John 3" "Moses" "trust"
Advanced Search
Listen to Your Favorite Pastors