Fly on the Wall: A Discussion about Authentic Transformation
Compiled by Gary Moon, for Conversations Journal
Thursday, September 02, 2004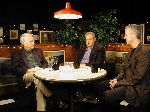 Crabb: You're assuming I learned something in physics.
Willard: We didn't learn much.
Ortberg: What you were supposed to learn in physics.
Willard: The difference between potential and kinetic energy. The energy that is in action and what could be in action, and what energy does. That sort of thing. I think that is essential for me to think about it enabling me to realistically think that it [energy of the kingdom] could do something.
Ortberg: Let me give you another example of that. The Lord's Prayer, in The Divine Conspiracy– Dallas, as you write about it, you are putting theology in other words. The idea of Father (you think about what Brennan Manning writes about "father"), who art in heaven–most of us think that means way out there, at least as far away as Poughkeepsie, or something. But to think about the use of heavens" in Scripture as the sphere in which God is present, which means right here. So to look at the prayer as saying, "My father [who loves me intently and has my best interests at heart] is all around me. My Father, who is closer than the air I breathe. And then that becomes a thought. There is something about thoughts to me where they get stale.
Willard: They get very stale.
Crabb: New language helps, personal vernacular.
Ortberg: Yep, just the right word to take something familiar like, "Our Father, who art in heaven," and say, "Our Father, who is closer than the air I breathe." My mind can run with that a little bit. And eventually that gets stale, and I have to keep thinking things out over and over. But it helps. The process of putting it in new words never gets done.

Willard: Yeah, it just helps me wonderfully to do that, if I can. And [the phrase],"If I be lifted up, I will draw all men unto me." To not let that just be a doctrine, but to be about history. This actually happened in history. It's happening right now. So, I work on that, and pray over it and struggle with it.
Crabb: Michael Card helped me with that. You know, if you are in conversation with someone who talks slowly, what do you want to do? You want to finish the sentence for him. Sometimes God seems to talk slowly, and I want to finish the sentences for him. And what Michael said helped me with this. As recently as a week ago, I was discouraged, and feeling empty. I had a busy speaking schedule, and I just wanted to play golf or something. I was dry. I said, "Wait a minute. I'm dry, and there is supposed to be water in me, and I can't taste it. What can I do to start thinking truth in a way that would lead to my heart?" I got up one morning [to spend time with God], and pardon my mysticism, but I felt led to the book of Judges and began reading about Gideon and Jephtha. And I thought, I don't get the point of this, so let me just make up my point and get on with this. That's the mistake. That's not saying, "Let me sit quietly enough to say, this is God's word and he wants to speak to me." So I sat for more than an hour just pondering the chapter [waiting for God to speak]. What was in my mind was, let God finish the sentence. That helps me put on the mind of Christ. But at the risk of sounding legalistic, we need to stay in the Word [as a way of putting on the mind of Christ], but maybe do it differently. I don't want to toss out the baby with the bath.
Recently on Spiritual Life
Have something to say about this article? Leave your comment via Facebook below!
advertise with us
Example: "Gen 1:1" "John 3" "Moses" "trust"
Advanced Search
Listen to Your Favorite Pastors