Former White Supremacist Embraces Christianity
Aaron Aupperlee, Religion News Service
Tuesday, July 03, 2012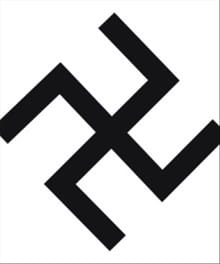 Two years ago, Chris Simpson led a white pride march.
Six months ago, he abandoned the white supremacy movement.
On April 15, he was baptized.
Five days later, Simpson sat in the waiting room of a skin and vein clinic, waiting to start the long and painful process of having his tattoos, most replete with Nazi or white pride iconography, removed.
"Hate will blind you to so many things. It will stop you from having so many things," Simpson said. "It consumes you."
Simpson, a 38-year-old garbageman and former Marine, said he has given up on hate. It is a decision he made for his family, for his wife Misty and his children, 9-year-old Cody, 7-year-old Kayleigh, 5-year-old Nikolaus and the 2-year-old twins, Tyrsson and Aeric. Even without the tattoos, which sprawl down his arms and up his neck, Simpson's presence can be intimidating. At 6 feet and 245 pounds, he fills out clothing with authority. He does not think his tattoos draw notice, but they are hard to miss.
"PURE HATE," is tattooed across his knuckles. His forearms read "BLOOD" and "HONOR." There are four battle-axes in the shape of a swastika on his left shoulder with the words "Supreme White Power" over them. There are several wolf's hooks, a Nazi symbol. The iconic lightning bolts associated with Nazi Germany's Schutzstaffel, the SS, are above his right wrist. There's a Nazi war bird on his chest. There are tattoos of a Valkyrie, a Viking, and Thor with swastikas drawn in his helmet. There are 42 in all, he thinks.
Simpson was a member of Battalion 14, a white pride group with supporters in Michigan. His involvement in the white pride movement began in a place of pain, frustration, anger and confusion. On April 28, 2000, Chris and Misty Simpson lost their first child, Alexis Nicole. Born with open spina bifida, a buildup of fluid in the brain, clubbed feet, and no intestines or stomach, Alexis lived only two and a half hours.
Recently married and struggling to scratch out a life in Danville, Va., Alexis' death sent Simpson reeling.
"I was feeling a lot of anger and hatred, and I was confused," Simpson said. "I just built up this hatred, or what I thought was hatred."
Simpson directed that hatred, with the help of a white pride group in his community, at people of other races. He believed that other races were succeeding at the expense of white people. They were driving nice cars, living in nice houses, watching nice televisions while he and Misty
struggled.
The white pride movement gave Simpson a place to direct his anger and frustration. He viewed stories in the media through a white versus black lens. Increasingly, he thought whites were becoming targets. He called this a "racial awakening."
In December, fighting within the organization and what seemed like total reliance on the Simpsons to finance the group's activities, caused Chris and Misty to call it quits.
During a shopping trip to Walmart, one of his children looked down an aisle, then up at Simpson and said, "Daddy, you can't go down that aisle. There's a n__- down there."
Recently on Spiritual Life
Have something to say about this article? Leave your comment via Facebook below!
advertise with us
Example: "Gen 1:1" "John 3" "Moses" "trust"
Advanced Search
Listen to Your Favorite Pastors