Gospel of Salvation or Gospel of the Kingdom?
Os Hillman, President, Marketplace Leaders
Wednesday, July 03, 2013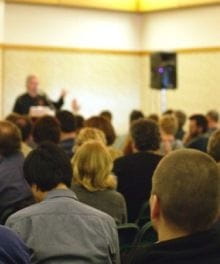 Gospel of Salvation vs Gospel of the Kingdom
The simplest way to understand the distinction is the Gospel of Salvation deals only with salvation for your soul. The Gospel of the Kingdom deals with all things that the cross affected including salvation and reconciliation of all things, including the material world that was lost in the fall.
It is helpful at this stage for us to define what we mean by a Kingdom. Myles Munroe, author of a book on the Kingdom of God, describes a kingdom in these terms: "A kingdom is the sovereign rulership and governing influence of a king over his territory, impacting it with his will, his intent, and his purpose, manifesting a culture and society reflecting the king's nature, values, and morals. A kingdom is the governing impact of a king's will over a territory or domain, his influence over a people, and a government led by a king."
Jesus' desire was for God's Kingdom to be manifested on earth. When He taught the disciples to pray, He petitioned His Heavenly Father by asking, "Your kingdom come, your will be done on earth as it is in heaven." While we may never see God's kingdom completely manifested on earth as it is Heaven, Jesus IS telling us that we should ask for it and expect it. Moses was led by God not to establish a religion but a nation of people who would love, serve, and honor God. In other words, God wanted His Kingdom expressed through their lives completely.
An Incomplete Gospel
The following comparison between attributes of the Gospel of the Kingdom and the Gospel of Salvation provides a better understanding of the two. When Jesus prayed the Lord's prayer He prayed for the manifestation of what was happening in Heaven to happen on earth. "Our Father in Heaven, hallowed be Your name, Your Kingdom come, Your will be done on earth as it is in heaven" (Matt 6:9-10). His emphasis was more than salvation.
Gospel of Salvation
Proclamation evangelism/salvation
Eternal, heavenly focus, evangelistic
Addresses only the "Soul"
"Rapture" escape mentality
Sacred vs. Secular - dualism
Focuses on Transaction
"Win the next soul"
Example: Nigeria
Gospel of the Kingdom
Soul and body
Impacts all aspects of society

Material, social, earthly, secular

Influence through service, godly leadership, active faith
Focuses on taking dominion
"Possess the Land"
Example: Almolonga
The above diagram shows the contrast between the Gospel of Salvation vs the Gospel of the Kingdom. One is passive; the other is active with a goal of taking possession as Joshua was instructed. One of the problems in the Church today is we often talk about "escaping this evil world" through the rapture instead of influencing the world.
Some research tells us that Nigeria may have as much as 60 percent of the population born again Christians. Yet, the culture has one of the greatest problems of crime and corruption of any nation in the world. That is because the Gospel of Salvation has been the primary message. Nigeria is a place where there are great evangelism campaigns, but the effect on the people has been minimal due to their failure to apply the Gospel to every area of their life.
Contrast this to Almolonga, Guatemala where 90% of the population is Christian and there are no jails because they don't need them because they have effectively applied the gospel to every aspect of their life.
Books like the Left Behind series may be good fictional reading that has some level of truth, but it can instill in our minds a mindset that Christians are to wait for the "great escape" instead of focusing our time and energy on occupying the land and changing the culture. Jesus said He wants to return to a mature bride; that means a vibrant church that is active on impacting our world.
Os Hillman is president of Marketplace Leaders and author of Change Agent and TGIF Today God Is First daily devotional.
Publication date: July 3, 2013
Recently on Spiritual Life
Have something to say about this article? Leave your comment via Facebook below!
advertise with us
Example: "Gen 1:1" "John 3" "Moses" "trust"
Advanced Search
Listen to Your Favorite Pastors