How to Hear God's Voice Above All Others
Whitney Hopler, Crosswalk.com Contributing Writer
Friday, February 07, 2014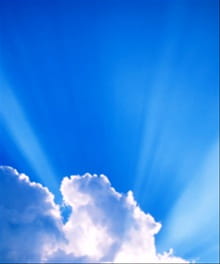 Editor's Note: The following is a report on the practical applications of Steven Furtick's new book Crash the Chatterbox: Hearing God's Voice Above All Others (Multnomah Books, 2014).
Every day, many thoughts pop into your mind – some of which are true, and some of which are lies. That mix of thoughts sounds like a chatterbox, creating incessant noise that can interfere with your ability to clearly hear God's voice speaking to you.
If you let deceptive thoughts distract you from God's messages, you can fall victim to insecurity, fear, condemnation, and discouragement. The key to overcoming those unhealthy attitudes is crashing the chatterbox regularly so you can hear God's voice above all others. Here's how you can do so:
Recognize the spiritual importance of your thoughts. The battle between good and evil that's constantly taking place in this fallen world infiltrates your mind. While the Holy Spirit works to encourage you to discover and fulfill God's will for your life, Satan tries to prevent you from doing so. Realize that it's in your mind that the transmission of God's plans for your life either succeed or fail. If you allow yourself to be distracted by thoughts that don't reflect what's true, you become vulnerable to evil attacks that can prevent you from becoming the person God wants you to become and doing what God wants you to do on Earth. But if you make a regular effort to listen for God's voice above all others, you can grow closer to God and fulfill your fulfill your God-given calling in life.
Consider how your internal dialogue may be sabotaging you from reaching your fullest potential. If you believe the deceptive and unhealthy thoughts that run through your mind, you will be fueling dysfunction in your life. Honestly ask yourself questions such as: What great deeds that you sense God calling you to do are in danger of remaining undone because you're afraid to do them? What desperate needs surround you that God can't meet through you unless you confront and overcome deceptive thoughts? How are the people who are closest to you (your family members and friends) suffering because of the lies you believe? Since the voices you believe will determine the future you experience, it's crucial to listen for God's voice carefully and regularly to get the wisdom you need to live up to your highest potential.
Overpower your insecurities by confessing "God says I am." God declares that you are someone he loves completely and unconditionally. God knows the worst parts of your life and yet still chooses to love you and call you to serve in his kingdom. Knowing that, you don't have to try to prove yourself to anyone, but instead can live with the assurance that comes from God-given acceptance, peace, and confidence. If you receive God's callings as promises and pursue them with the faith that God will help you fulfill them, you'll experience the blessings that come from God's favor on you. Whenever Satan tries to tempt you to doubt God's goodness or power in any situation, you can overcome his deception by reminding yourself of biblical truths and asking the Holy Spirit to renew your mind to give you an accurate perspective on the situation. So it's important to read, study, and think about the Bible often so your mind will absorb its truths and the Spirit will use those truths to transform you.
Overpower your fears by confessing "God says he will." Choose faith in what God says over fears about the "what ifs" in life. While you can't anticipate what circumstances you'll face in the future, you can know God, who controls the future. Choose to believe God's promise to do what's best for you when you trust him. Kick your fears out of your heart so they won't keep you out of the places God has prepared for you in life. Imagine your scariest "what if?" scenarios, such as your spouse leaving you, one of your children dying, the loss of your job, or being diagnosed with a serious health condition. Then realize that even if the worst happens in your life, you can still count on the fact that God will give you the faith you need to make it through. So don't let your fears erode the confidence God wants to give you to embrace life to the fullest every day. The danger of missing out on living fully is often much greater than the risk that comes from stepping out in faith. Whenever you sense God calling you to say or do something, rather than getting stuck on the question "What if I do obey God and it costs me greatly?" ask yourself "What great things will I miss out on if I don't obey God?" Train your mind to discern the difference between Satan's threats and God's whispers, keeping in mind contrasts such as: While evil thoughts are embedded in lies, thoughts that come from God ware rooted in truth. Satan tries to paralyze you, but God motivates you. Evil thoughts diminish your hope, while God's messages empower you to change.
Recently on Spiritual Life
Have something to say about this article? Leave your comment via Facebook below!
advertise with us
Example: "Gen 1:1" "John 3" "Moses" "trust"
Advanced Search
Listen to Your Favorite Pastors