How to Query God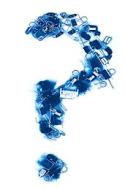 You will say to me then, "Why does he still find fault? For who can resist his will?" 20 But who are you, O man, to answer back to God? Will what is molded say to its molder, "Why have you made me like this?" --Romans 9:20
Clearly Paul was displeased with this response to his teaching about God. Does this mean that it's always wrong to ask questions in response to Biblical teaching? I don't think so.
Paul had said some controversial things. Peter admitted that Paul was sometimes hard to understand: "There are some things in them that are hard to understand, which the ignorant and unstable twist to their own destruction, as they do the other Scriptures" (2 Peter 3:16). Paul had said that God "has mercy on whom he wills and hardens whom he wills" (Romans 9:18). The point was: his will decides finally whether we are hard-hearted or not. "Before they were born or do anything good or evil" God had mercy on Jacob and gave Esau over to hardness (Romans 9:11-13).
Someone hears this and objects in verse 19, "Why does he still find fault? For who can resist his will?" To this Paul responds, "You, a mere human being, have no right to answer back to God."
The word "answer back" (antapokrinomenos) occurs one other time in the New Testament, namely, in Luke 14:5-6. Jesus is showing the lawyers that it is lawful to heal on the Sabbath. He said to them, "'Which of you, having a son or an ox that has fallen into a well on a Sabbath day, will not immediately pull him out?' And they could not answer back (antapokrithenai) to these things."
In what sense could they not "answer back"? They could not show him wrong. They could not legitimately criticize him. They could not truly contradict what he said. So the word "answer back" probably carries the meaning: "answer back with a view to criticizing or disagreeing or correcting."
That, I think, is what displeased Paul in Romans 9:20. This leaves open the possibility that a different kind of question would be acceptable, namely, a humble, teachable question that wants to understand more if possible, but not rebuke or condemn or criticize what has been said.
For example, in Luke 1:31 the angel Gabriel comes to the virgin Mary and says, "Behold, you will conceive in your womb and bear a son, and you shall name Him Jesus." Mary is astounded and baffled. Virgins don't have sons. She could have scoffed and argued. But instead she said, "How will this be, since I am a virgin?" (Luke 1:34). She did not say it can't happen; she asked, "How?"
Contrast this with Gabriel's visit to Zechariah, the father of John the Baptist. The angel comes and tells him, "Your wife Elizabeth will bear you a son, and you shall call his name John" (Luke 1:13). But Zechariah knew that "Elizabeth was barren and advanced in years" (Luke 1:7). Different from Mary, his skepticism gave rise to a different question. He said, "How shall I know this?" Not: "How will you do this?" But: "How can I know you'll do it?"
Recently on Spiritual Life
Have something to say about this article? Leave your comment via Facebook below!
advertise with us
Example: "Gen 1:1" "John 3" "Moses" "trust"
Advanced Search
Listen to Your Favorite Pastors