Journey With Jesus: A New Commandment
K.P. Yohannan, Gospel for Asia
Thursday, November 18, 2004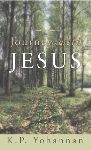 In John 13:34–35 (NIV), Jesus said to His disciples, "A new command I give you: Love one another. As I have loved you, so you must love one another. By this all  men will know that you are my disciples, if you love one another."

We've all had times in our lives when we have been hurt, perhaps by someone we know very well or someone we know just casually, and we find loving that person to be very difficult. Hurtful and trying experiences that cause much pain are part of life—even Jesus experienced them.

What is important is how we respond in those times, for that determines the growth that will or will not occur in our lives. In seeing Jesus' response, we can gain the strength and grace to do the same and come one step closer to mirroring Him.
Steadfast Love
Imagine the topic of conversation among the disciples after the crucifixion and resurrection of Christ. I'm sure their minds strained to remember each event and how it related to what came to pass, recalling their times with the Lord, the days leading up to the crucifixion and the dramatic and prophetic unfolding of every moment.

Perhaps they recalled their own Judas, remembering how he left right in the middle of the Last Supper. By this time, the disciples knew that Judas was the one who had betrayed the Lord and that he had hung himself from the guilt of it. I can just hear one of the disciples saying, "I can't believe Jesus didn't just  throw Judas out from the start! He had to have known all along that he was  stealing money. And certainly He knew that Judas was the one who would betray Him in the end. Why did He let him stick around? At least Jesus could have told us that he was the one who was going to betray Him, so that we would have known to stay away from him."
And then I can hear someone like Peter speaking up, saying, "Well, I'm not surprised at the way Jesus treated Judas. Jesus loved us until the very end and that includes him. I betrayed Jesus as well; I denied Him—and not just once, but three times. With His own eyes He saw me turn my back on Him. Yet when He rose again, He specifically called out my name and said, 'Go and tell Peter.' When He found me I was ashamed, discouraged and backslidden. But when I first saw Him after the resurrection, all I saw were His love and His mercy. Not once did He bring up my turning away or reprimand me and tell me how wrong I was. He simply came close and asked, 'Do you love Me?'
"No, I'm not surprised He loved Judas. He loved each one of us. And we must never forget what He told us: that we must love one another as He loved us."
The disciples' lives were completely transformed by what they saw in Jesus. They watched Him respond to beggars, hold little children and heal the blind. But what impacted them even more was what they saw in Him after the resurrection—the forgiveness and love after the betrayal and turning away, the betrayal and turning away, the joy with which He showed them the scars in His hands and side (see Luke 24:39) and the camaraderie displayed as He cooked breakfast for them on the beach after a long night of toil (see John 21:9).
I believe that the only reason the disciples were able to impact their world in such a great way and endure such intense persecution was because of the unfailing love they saw in Jesus. It was this love that enabled Stephen to suffer and die for the Lord in Acts 7, crying out for his persecutors just as Jesus did, saying, "Lord, do not charge them with this sin" (Acts 7:60). "Love covers a multitude of sins" (1 Peter 4:8, NIV).
Recently on Spiritual Life
Have something to say about this article? Leave your comment via Facebook below!
advertise with us
Example: "Gen 1:1" "John 3" "Moses" "trust"
Advanced Search
Listen to Your Favorite Pastors