Switch Your Search from Porn to God
Whitney Hopler, Crosswalk.com Contributing Writer
Wednesday, February 29, 2012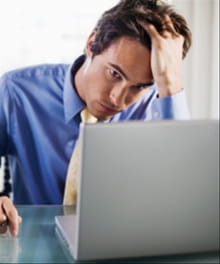 Editor's note: The following is a report on the practical applications of Michael John Cusick's new book, Surfing for God: Discovering the Divine Desire Beneath Sexual Struggle (Thomas Nelson Publishers, 2012).
Many people, including lots of Christians, surf the Internet looking for pornography on a regular basis. If you're one of them, you may feel caught in a cycle of desire and shame from which you don't know how to break free.
The key to overcoming your struggle with pornography is realizing that whenever you search online for porn, you're actually searching for God. Once you understand why and commit to changing how you seek to get your desires met, you truly can break free of a porn addiction.
Here's how:
Recognize the dangers of porn. Focusing on using porn for your own pleasure rather than reaching out to a real person in marriage distorts God's design for love. Porn is dangerous to all of your relationships – with God and other people – because it causes you to become isolated in self-absorption and shame and prevents you from growing into the loving person God intends for you to become.
Understand why you're compulsively drawn to sex. God designed sex as a way to help human beings learn more about intimacy, since He wants to have a close, loving relationship with every person He has made. Sex acts as a powerful signpost pointing people toward God because God is the source of all love. In marriage (where God intended people's sexuality to be lived out), sex draws spouses closer to God and each other, teaching them more about how to love. You're drawn to sex because you naturally want to experience more of God's love in your life. So your desire for sex isn't the problem. The problem comes when you seek to get your desire met in the wrong ways – such as through porn – that promise to satisfy you but ultimately don't.
Consider porn's broken promises. Porn promises to meet many of your deep longings without costing you anything, but it never really delivers on those promises. Reflect on some of porn's promises (such as sexual fulfillment without relationship, intimacy without risk and suffering, passion and life without connection to your soul, and comfort and care without depending on others) and consider how all point to legitimate, good desires that you can only truly get by following God's design for sexuality.
Figure out what triggers your desire for porn. Pay attention to what experiences trigger you to want to use porn: seeing a sexually attractive person; being home alone; feeling anxious, angry, bored, or disappointed; or some other situation.
Identify how your cravings for porn are connected to different types of thirst in your soul. People have seven core needs that they may mistakenly try to meet through porn: attention (to be seen and valued), affection (to feel loved), affirmation (to know that they have what it takes to be successful), acceptance (to belong), satisfaction (to be fulfilled), significance (to exert a powerful impact on the world), and security (to know that they will be okay). How is your own soul thirsty right now? Pay attention to your desires. Rather than trying to deny or suppress your sexual desires (which will only be in vain), let those desires lead you to your heart truly longs for: a closer relationship with God.
Distinguish between guilt and shame. Guilt says that a person's behavior is wrong, while shame says that something is wrong with who that person is. If you feel guilty about your porn addiction, that's a good thing, because the guilt can motivate you to pursue healing from God. But if you feel ashamed, you can get stuck feeling sorry for yourself. So pray for the power you need to respond to guilt by seeking God, and to get rid of shame and see yourself the way God sees you: as a good person who simply needs to change wrong behavior.
Recently on Spiritual Life
Have something to say about this article? Leave your comment via Facebook below!
advertise with us
Example: "Gen 1:1" "John 3" "Moses" "trust"
Advanced Search
Listen to Your Favorite Pastors