The Tale of the Third Follower: Excerpt from Lazarus Awakening
Joanna Weaver, Author
Thursday, January 27, 2011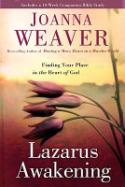 Tale of the Third Follower
It's amazing that such a little space could make so much difference. Just eighteen inches, give or take a few—that's all it needs to move. And yet, for many of us, getting God's love from our heads to our hearts may be the most difficult—yet the most important—thing we ever attempt to do.
"I need to talk," Lisa whispered in my ear one day after women's Bible study. A committed Christian with a deep passion for the Lord, my friend had tears pooling in her dark eyes as we found a quiet corner where we could talk.
"I don't know what's wrong with me," she said, shaking her head as she looked down at her feet. "I could go to the worst criminal or a drug addict living on the street, and I could look him in the eye and tell him, 'Jesus loves you!' and mean it from the bottom of my heart.
"But, Joanna," she said, gripping my hand, "I can't seem to look in the mirror and convince myself." Her words were familiar to me. I'd felt that same terrible disconnect early in my walk with the Lord. Hoping He loved me but never really knowing for sure. Sadly,
I've heard the same lonely detachment echoed by hundreds of women I've talked to around the country. Beautiful women. Plain women. Talented and not-so-talented women. Strong Christian women, deep in the Word and active in their church, as
well as women brand new to their faith. Personal attributes or IQs seem to matter little. Whether they were raised in a loving home or an abusive situation, it doesn't seem to change what one friend calls an epidemic among Christian women (and many men as well): a barren heart condition I call love-doubt.
"Jesus loves me—this I know, for the Bible tells me so."1 Many of us have sung the song since we were children. But do we really believe it? Or has Christ's love remained more of a fairy tale than a reality we've experienced for ourselves in the only place we can really know for sure? Our hearts.
You would think after accepting Christ at a young age and being raised in a loving Christian home with a loving, gracious father, I would have been convinced from the beginning that my heavenly Father loved me. Me. With all my faults and failures. My silly stubbornness and pride. But those very things kept me from really knowing Christ's love for the majority of my early adult life. There was just so much to dislike, so much to disapprove of. How could God possibly love me? Even I wasn't that crazy about me.
For some reason, I'd come to see God as distant and somewhat removed. Rather than transposing upon God the model of my earthly father's balanced love—both unconditional yet corrective—I saw my heavenly Father as a stern teacher with a yardstick in His hand, pacing up and down the classroom of my life as He looked for any and all infractions. Measuring me against what sometimes felt like impossible standards and occasionally slapping me when I failed to make the grade.
Yes, He loved me, I supposed. At least that's what I'd been taught. But I didn't always feel God's love. Most of the time I lived in fear of the yardstick. Who knew when His judgment would snap down its disapproval, leaving a nasty mark on my heart as well as my soul? As a result, I lived the first three decades of my life like an insecure adolescent, forever picking daisies and tearing them apart, never stopping to enjoy their beauty. He loves me, He loves me not, I would say subconsciously, plucking a petal as I weighed
my behavior and attitudes against what the Bible said I should be.
Powerful church services and sweet altar times. Ah, I felt secure in His love. Real life and less-than-sweet responses? I felt lost and all alone. Unfortunately, all I got from constantly questioning God's love was a fearful heart and a pile of torn, wilted petals. My overzealous self-analysis never brought the peace I longed for. Because the peace you and I were created for doesn't come from picking daisies. It only comes from a living relationship with a loving God.
Recently on Spiritual Life
Have something to say about this article? Leave your comment via Facebook below!
advertise with us
Example: "Gen 1:1" "John 3" "Moses" "trust"
Advanced Search
Listen to Your Favorite Pastors