The Ultimate How-To Guide: How to Display God's Character
Mark Dever , Pastor, Author
Wednesday, June 20, 2012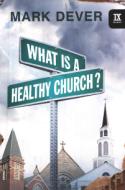 I confess I'm not very good at practical things around the house--building bookshelves, wiring a stereo system, figuring out what all the buttons do on my telephone. I don't even find most how-to guides helpful. Often I have to cast myself on the mercy and ingenuity of family members and friends.

I am grateful that my lack of skill in some of these practical areas is no impediment for following the ultimate how-to guide--what the Bible says about how the church can display God's glorious character. The basic principle here is quite simple: we must listen to God's Word, and we must follow it. Only two steps--listen and follow.

By listening and following God's Word, we image and display God's character and glory, much like a king's ambassadors.

Or like a son. Imagine a son whose father journeyed to a distant country and then wrote his son a series of letters, instructing him on how he was to carry on the family name and how he was to conduct the family business. Yet suppose that the son never read his father's letters. How would this son ever learn to represent the father and conduct the father's business? He wouldn't. And neither does the local church that ignores the Word of God.

Two Kinds of People

Ever since Adam was cast from the garden for not obeying God's Word, all of humanity has been divided between two camps: those who obey God's Word and those who don't. Noah did. The builders of Babel didn't. David did. Most of his sons didn't. Zacchaeus did. Pilate didn't.

Biblical history teaches that what separates the people of God from both impostors and unbelievers is that the people of God listen to God's Word and heed it. The others don't.

This is what Moses is at such great pains to communicate in Deuteronomy as he stands on the edge of the Promised Land with the people of Israel a second time. He begins by reminding them that he had stood there forty years prior with their parents, and that their parents hadn't listened. So God cursed their parents to die in the wilderness. The three speeches, which follow through the course of almost thirty chapters, can be summed up pretty simply: "Listen. Hear. Write down. Remember what God has said. He's the one who saved you from bondage in Egypt, so listen to him!" In chapter 30, Moses brings the weight of everything he has said to bear on this one command: "Now choose life" (v. 19).

The people of God will find life entirely and exclusively through listening to God's Word and obeying it. It's that simple.

God's message for the New Testament church is no different. He saved us from the bondage of sin and death when we listened to his Word and believed (Rom. 10:17). Now we are to listen to his Word and follow. By listening and following what he has said, we increasingly image his character and glory.

That's why Matthew reported what Jesus said to Satan concerning man's living on "every word that comes from the mouth of God" (Matt. 4:4).

That's why Luke described himself as an eyewitness and a servant of the Word (Luke 1:2), and why he reports Jesus' promise, "Blessed ... are those who hear the word of God and obey it" (Luke 11:28).

That's why, when the early church in Acts gathered, they "devoted themselves to the apostles' teaching and to the fellowship, to the breaking of bread and to prayer" (Acts 2:42).

That's why Paul told the Romans, "Faith comes from hearing the message, and the message is heard through the word of Christ" (Rom. 10:17).

That's why he told the Corinthians that the "message of the cross" is the "power of God" unto salvation (1 Cor. 1:18).

That's why he told the Galatians that if "anybody is preaching [to them] a gospel other than [what he preached to them] let him be eternally condemned!" (Gal. 1:9).

That's why he told the Ephesians that they were "included in Christ [when they] heard the word of truth, the gospel of [their] salvation" (Eph. 1:13).

That's why he told the Thessalonians, "We also thank God continually because, when you received the word of God, which you heard from us, you accepted it not as the word of men, but as it actually is, the word of God, which is at work in you who believe" (1 Thess. 2:13).

That's why the author of Hebrews warned, "For the word of God is living and active. Sharper than any double-edged sword, it penetrates even to dividing soul and spirit, joints and marrow; it judges the thoughts and attitudes of the heart" (Heb. 4:12).

That's why James reminded his readers that God "chose to give us birth through the word of truth" and to "not merely listen to the word, and so deceive yourselves. Do what it says" (James 1:18, 22).

That's why John wrote, "If anyone obeys his word, God's love is truly made complete in him. This is how we know we are in him: Whoever claims to live in him must walk as Jesus did" (1 John 2:5-6); and why he said, "And this is love: that we walk in obedience to his commands" (2 John 6); and why he declared that he has "no greater joy than to hear that my children are walking in the truth" (3 John 4).

And that's why John, in the book of Revelation, commended the church in Philadelphia, "I know that you have little strength, yet you have kept my word and have not denied my name" (Rev. 3:8).

Friend, the church finds its life as it listens to the Word of God. It finds its purpose as it lives out and displays the Word of God. The church's job is to listen and then to echo. That's it. The primary challenge churches face today is not figuring out how to be "relevant" or "strategic" or "sensitive" or even "deliberate." It's figuring out how to be faithful--how to listen, how to trust and obey.

Let's Keep Listening

All this is why we want to keep listening as we think about our churches. What else does God have to teach us in his Word about a healthy church? The nine marks of a healthy church I will turn to in future columns are not, I hope, just my ideas. Hopefully you'll discover what I mean as we move from mark to mark: expositional (or biblical) preaching, biblical theology, a biblical understanding of the good news, a biblical understanding of conversion, a biblical understanding of church membership, biblical church discipline, and so on.

Even if you don't agree with something I say in future columns, I hope you disagree because you think the Bible says something different from what I think it says. In other words, I hope you too will let your listening to his Word guide what you think the local church should be and do.
Recently on Spiritual Life
Have something to say about this article? Leave your comment via Facebook below!
advertise with us
Example: "Gen 1:1" "John 3" "Moses" "trust"
Advanced Search
Listen to Your Favorite Pastors