Tsunamis and Repentance
John Piper, Desiring God
Sunday, March 13, 2011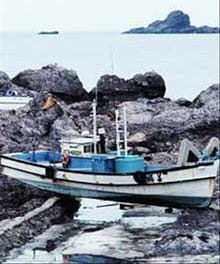 Editor's Note: John Piper originally published this article at Desiring God following the Indian tsunami in late December 2004. The same principles and reminders are important following the tragedy in Japan.
From pulpits to news programs, from the New York Times to the Wall Street Journal, the message of the tsunami was missed. It is a double grief when lives are lost and lessons are not learned. Every deadly calamity is a merciful call from God for the living to repent. "Weep with those who weep," the Bible says. Yes, but let us also weep for our own rebellion against the living God. Lesson one: weep for the dead. Lesson two: weep for yourselves.
Every deadly calamity is a merciful call from God for the living to repent. That was Jesus' stunning statement to those who brought him news of calamity. The tower of Siloam had fallen, and 18 people were crushed. What about this, Jesus? they asked. He answered, "Do you think that they were worse offenders than all the others who lived in Jerusalem? No, I tell you; but unless you repent, you will all likewise perish" (Luke 13:4-5).
The point of every deadly calamity is this: Repent. Let our hearts be broken that God means so little to us. Grieve that he is a whipping boy to be blamed for pain, but not praised for pleasure. Lament that he makes headlines only when man mocks his power, but no headlines for ten thousand days of wrath withheld. Let us rend our hearts that we love life more than we love Jesus Christ. Let us cast ourselves on the mercy of our Maker. He offers it through the death and resurrection of his Son.
This is the point of all pleasure and all pain. Pleasure says: "God is like this, only better; don't make an idol out of me. I only point to him." Pain says: "What sin deserves is like this, only worse; don't take offense at me. I am a merciful warning."
But the topless sunbathers amid the tsunami aftermath in Phuket, Thailand did not get the message. Neither did the man who barely escaped the mighty wave with the help of a jungle gym and palm-leaf roof. He concluded, "I am left with an immense respect for the power of nature." He missed it. The point is: reverence for the Creator, not respect for creation. [Ed. note: John Piper's theological point remains the same, but please note that the quote was erroneously truncated by the Associated Press. Mr. Green really did see and say the truth, and was incompletely quoted by John Piper's source. For John Piper's apology to Patrick Green, read "A Letter from John Piper."]
Writing in the New York Times, David Brooks rightly scorns the celebration of nature's might: "When Thoreau [celebrates] savage wildness of nature, he sounds, this week, like a boy who has seen a war movie and thinks he has experienced the glory of combat." But Brooks sees no message in the calamity: "This is a moment to feel deeply bad, for the dead and for those of us who have no explanation."
David Hart, writing in the Wall Street Journal, goes beyond Brooks and pronounces: "No Christian is licensed to utter odious banalities about God's inscrutable counsels or blasphemous suggestions that all this mysteriously serves God's good ends."
Recently on Spiritual Life
Have something to say about this article? Leave your comment via Facebook below!
advertise with us
Example: "Gen 1:1" "John 3" "Moses" "trust"
Advanced Search
Listen to Your Favorite Pastors