Why Are People Reluctant to Go into Missions?
John Piper, Desiring God
Thursday, November 10, 2005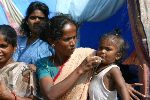 When I spoke at Missions in the Main Hall Sunday night, I tried to give a biblical response to possible obstacles that are in the way for some people that may keep them from moving forward toward missions. My prayer is that God would use these responses to call more of you to go. Here are eight objections and a biblical response.
1. "I am not smart enough."

"Where is the one who is wise? Where is the scribe? Where is the debater of this age? Has not God made foolish the wisdom of the world? For since, in the wisdom of God, the world did not know God through wisdom, it pleased God through the folly of what we preach to save those who believe." (1 Corinthians 1:20-21)
"Consider your calling, brothers: not many of you were wise according to worldly standards, not many were powerful, not many were of noble birth. But God chose what is foolish in the world to shame the wise." (1 Corinthians 1:26-27)

2. "My body and my personality are not strong enough."

"But we have this treasure in jars of clay, to show that the surpassing power belongs to God and not to us." (2 Corinthians 4:7)

"[Christ] said to me, 'My grace is sufficient for you, for my power is made perfect in weakness.' Therefore I will boast all the more gladly of my weaknesses, so that the power of Christ may rest upon me. For the sake of Christ, then, I am content with weaknesses, insults, hardships, persecutions, and calamities. For when I am weak, then I am strong." (2 Corinthians 12:9-10)

3. "I am not a good speaker."

"Christ did not send me to baptize but to preach the gospel, and not with words of eloquent wisdom, lest the cross of Christ be emptied of its power." (1 Corinthians 1:17)

"Moses said to the Lord, 'Oh, my Lord, I am not eloquent, either in the past or since you have spoken to your servant, but I am slow of speech and of tongue.' Then the Lord said to him, 'Who has made man's mouth? Who makes him mute, or deaf, or seeing, or blind? Is it not I, the Lord? Now therefore go, and I will be with your mouth and teach you what you shall speak." (Exodus 4:10-12)

4. "I am afraid of the horrors I read about in the newspapers."

"Be sober-minded; be watchful. Your adversary the devil prowls around like a roaring lion, seeking someone to devour. Resist him, firm in your faith, knowing that the same kinds of suffering are being experienced by your brotherhood throughout the world. And after you have suffered a little while, the God of all grace, who has called you to his eternal glory in Christ, will himself restore (katartisei—"mend" or "repair" your horribly disfigured body when the lions in the coliseum are through with you), confirm, strengthen, and establish you." (1 Peter 5:8-10)

5. "I am afraid I won't be fruitful"

Your responsibility is not to be fruitful but to be faithful. "And [Jesus] said, 'The kingdom of God is as if a man should scatter seed on the ground. He sleeps and rises night and day, and the seed sprouts and grows; he knows not how. The earth produces by itself, first the blade, then the ear, then the full grain in the ear. But when the grain is ripe, at once he puts in the sickle, because the harvest has come." (Mark 4:26-29)
Recently on Spiritual Life
Have something to say about this article? Leave your comment via Facebook below!
advertise with us
Example: "Gen 1:1" "John 3" "Moses" "trust"
Advanced Search
Listen to Your Favorite Pastors