Why Jesus Compared Unforgiveness To the Sycamine Tree
Rick Renner, Rick Renner Ministries
Thursday, October 27, 2011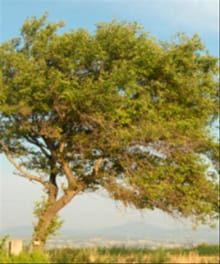 If ye had faith as a grain of mustard seed,
ye might say unto this sycamine tree,
Be thou plucked up by the root,
and be thou planted in the sea; and it should obey you.
- Luke 17:6
In Luke 17:1-6, Jesus taught His disciples about bitterness and unforgiveness and about how to remove these evil forces from one's life. As an illustration, Jesus likened these forces to the sycamine tree that was so well known in that part of the world. The word "sycamine" comes from the Greek word sukaminos, and it is the Greek word that refers to a tree that grew throughout the Middle East.
When you understand everything that is connected to the sycamine tree, you'll know exactly why Jesus chose to use this tree as an example of bitterness and unforgiveness in Luke 17:6. In that verse, Jesus told His disciples, "...If ye had faith as a grain of mustard seed, ye might say unto this sycamine tree, Be thou plucked up by the root, and be thou planted in the sea; and it should obey you." Notice that Jesus said, "…Ye might say unto this sycamine tree…" The word "this" indicates that Jesus was pointing out something very specific to them.
Keep in mind that Jesus was speaking of getting rid of bitterness and unforgiveness. In Luke 17:3, He told the disciples that they needed to forgive those who sinned against them. He then took it to the maximum in Luke 17:4 by saying that even if a brother does something wrong seven times in one day and is each time truly repentant, they were to keep on forgiving that offending brother.
Forgiving once is already a challenge for most people. But to forgive someone seven times in one day almost sounds impossible to many folks. It must have sounded preposterous to the disciples as well, for they said, "…Lord, Increase our faith" (Luke 17:5). This statement was the equivalent of their saying, "Lord, we don't know if we have enough faith to forgive so many times in one day. You'll have to increase our faith if we're going to do this seven times in one day!"
That is when Jesus began to teach His disciples about speaking to bitterness and unforgiveness. He said, "...If ye had faith as a grain of mustard seed, ye might say unto this sycamine tree.…" When Jesus used the word "this," it was the equivalent of Jesus' telling them, "Bitterness and unforgiveness are just like the sycamine tree - and if you really want to be free of these attitudes, you can speak to this menacing growth in your life and command it to be planted in the sea!"
Before we can understand what Jesus taught about getting rid of bitterness and unforgiveness, we first need to see why He used the sycamine tree to illustrate these destructive forces. Was there a particular reason why He didn't use an oak tree, an apple tree, or a palm tree in this illustration? Why did He use the sycamine tree to symbolize the detrimental effects of bitterness and unforgiveness in a person's life?
As you look at the characteristics of the sycamine tree listed below, I believe you will compre­hend why Jesus used this particular tree in this context.
1. The sycamine tree had a very large and deep root structure.
The sycamine tree was known to have one of the deepest root structures of all trees in the Middle East. It was a vigorous and robust tree that grew to a height of thirty feet or more. Because its roots went down so deep into the earth, it was very difficult to kill. Hot weather and blistering temperatures had little effect on this tree because it was tapped into a water source down deep under the earth. Even cutting it to its base would not guarantee its death because its roots, hidden deep under the ground, would draw from underground sources of water, enabling it to keep resurfacing again and again. In other words, this tree was very difficult to eradicate.
Recently on Spiritual Life
Have something to say about this article? Leave your comment via Facebook below!
advertise with us
Example: "Gen 1:1" "John 3" "Moses" "trust"
Advanced Search
Listen to Your Favorite Pastors